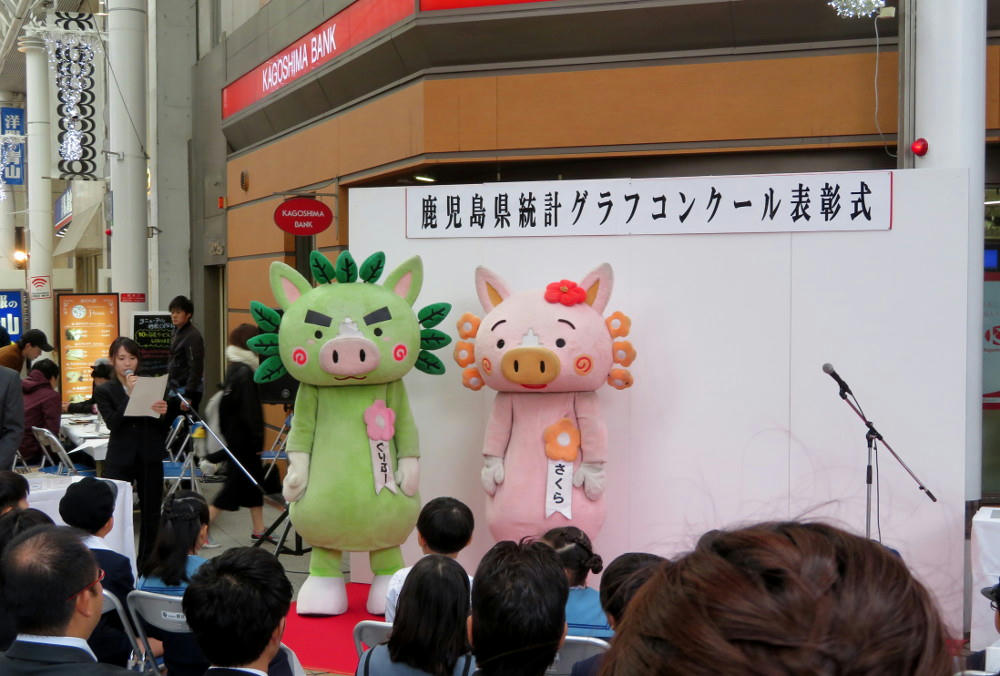 This Saturday, the space in front of 7-11 in Tenmonkan hosted another of the graph contests. This is open to school kids who want to show off their powerpoint skills. I was walking through Tenmonkan on my way to the English school at 1:45 PM, and the officials were just finishing handing out certificates to the prize winners, just leaving Guree-buu and Sakura (the Kagoshima foamhead mascots) to stand on stage.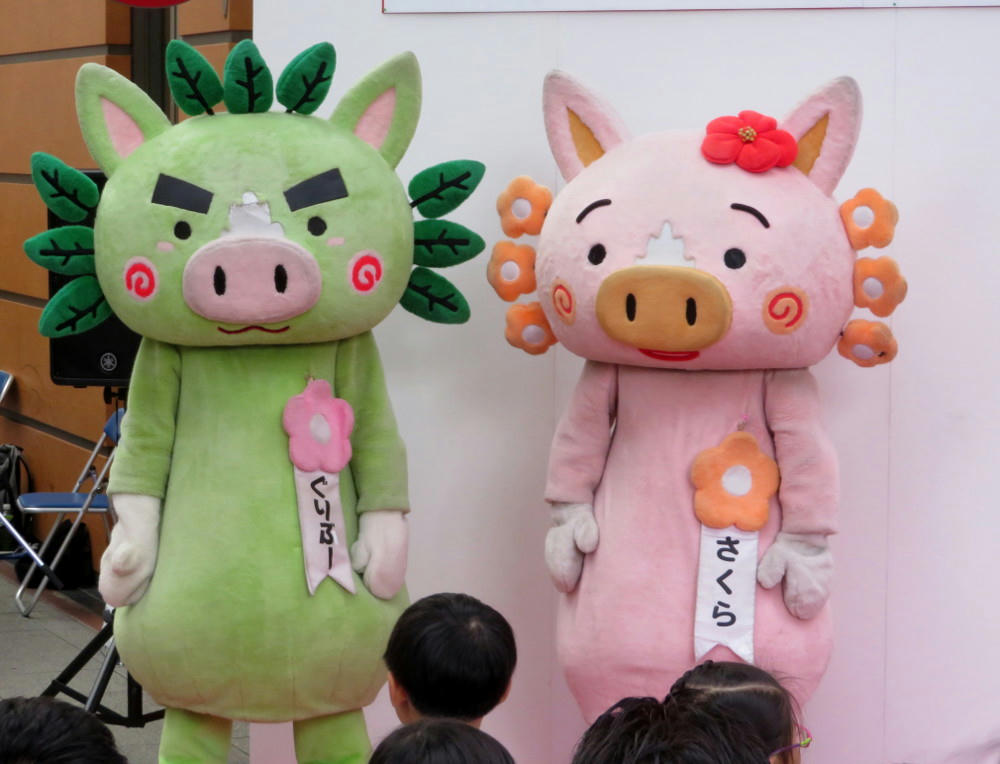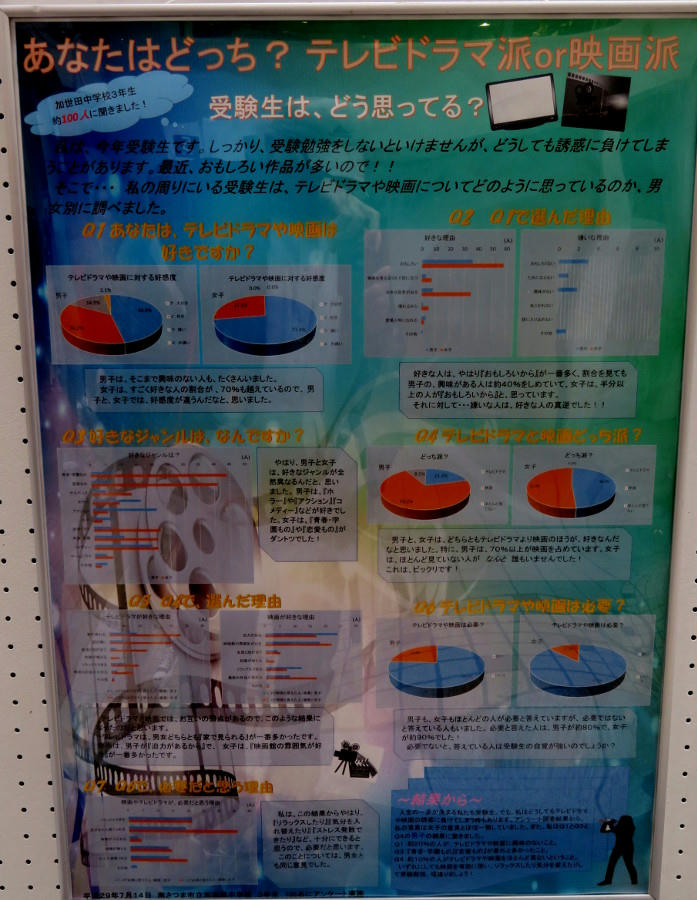 Most of the graphs were hand-colored and at the 3rd--5th grade levels, but a few were more sophisticated-looking.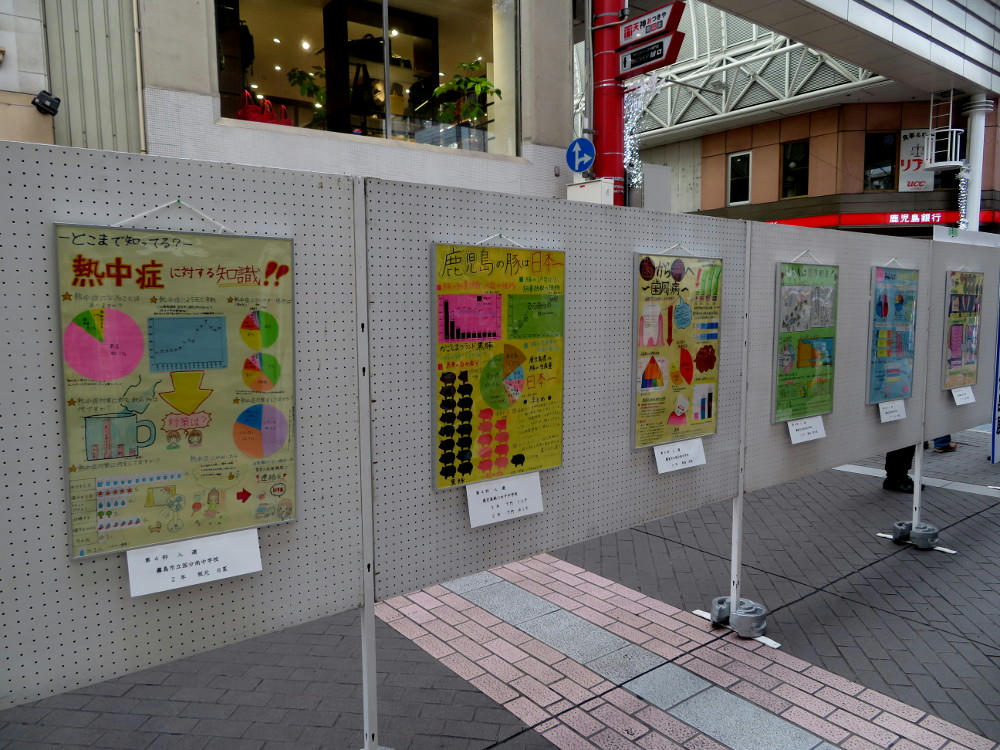 A sampler shot of one side of one of the display panels.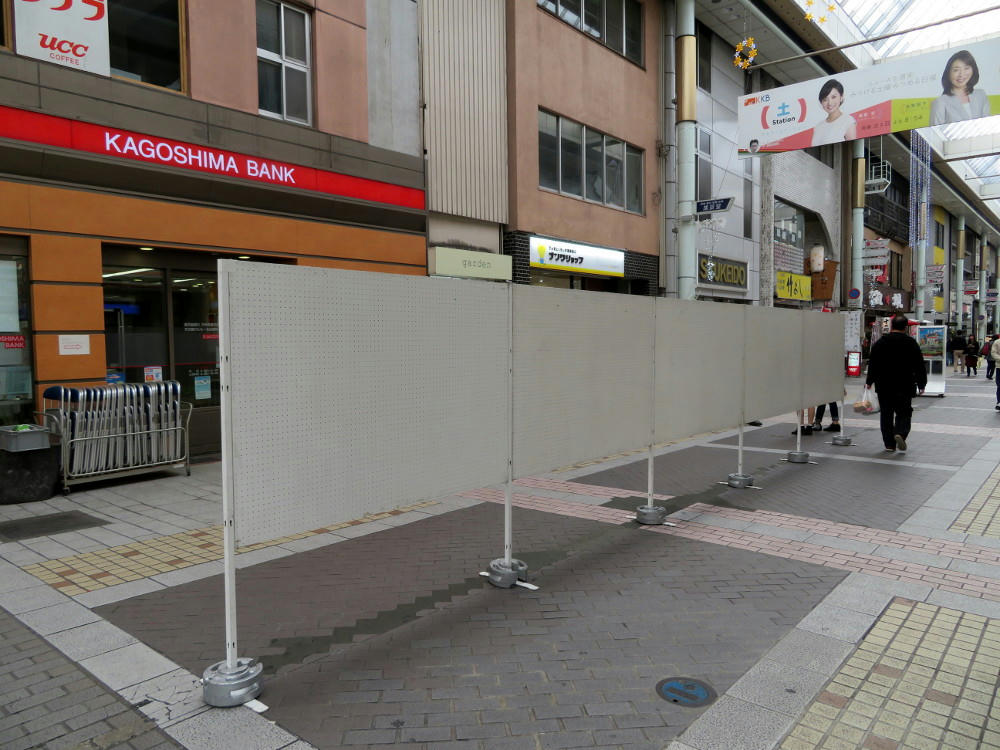 I got into the school at 1:50 PM, and sat around, waiting for the student to show up. At 2:10, we got a notice saying that they wanted to cancel the lesson. So I got back outside, and returned to the 7-11. At that point, the graphs had already been taken down, and the peg boards were stripped clean.
As was the stage. Another reminder that in Japan, if you blink, you'll miss it.
So I do a bit of shopping, and come back to the area again a few minutes later, and the Spiritual Cross Gospel group is set up in the arcade, and just finishing up one of their carols. They announce that they're going to take a break, and they'll sing some more some time later. I'm not big on gospel music, so I keep walking. The thing is, this part of the arcade is pretty popular with buskers wanting to play in public in the evenings during the week. We'll get guitarist-singers, keyboardists, and bongo drummers here, playing and trying to sell CDs or just get tips. It's usually not stuff I want to listen to, or hand out money for, but the players are all pretty dedicated to their craft.
Happy Marche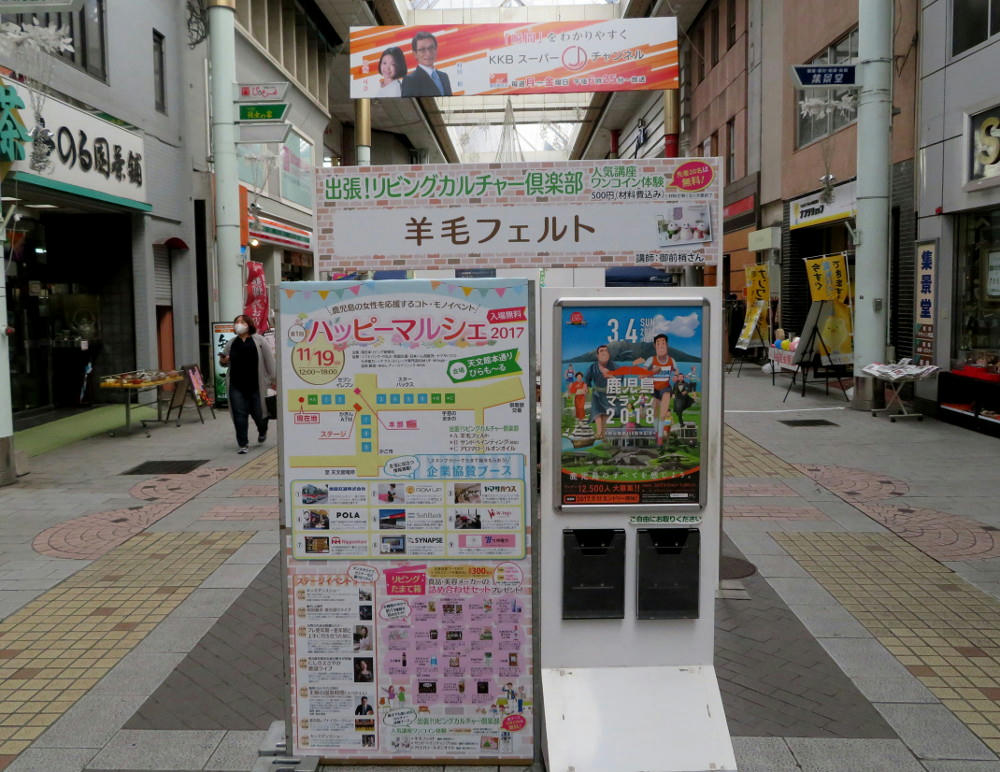 Then, on Sunday, we had the Happy Marche, along with a few people trying to sell handmade arts and crafts (there's kind of an open flea market in Tenmonkan on the weekends when nothing else special is scheduled). The sign above the advertising boards reads "Wool Felt."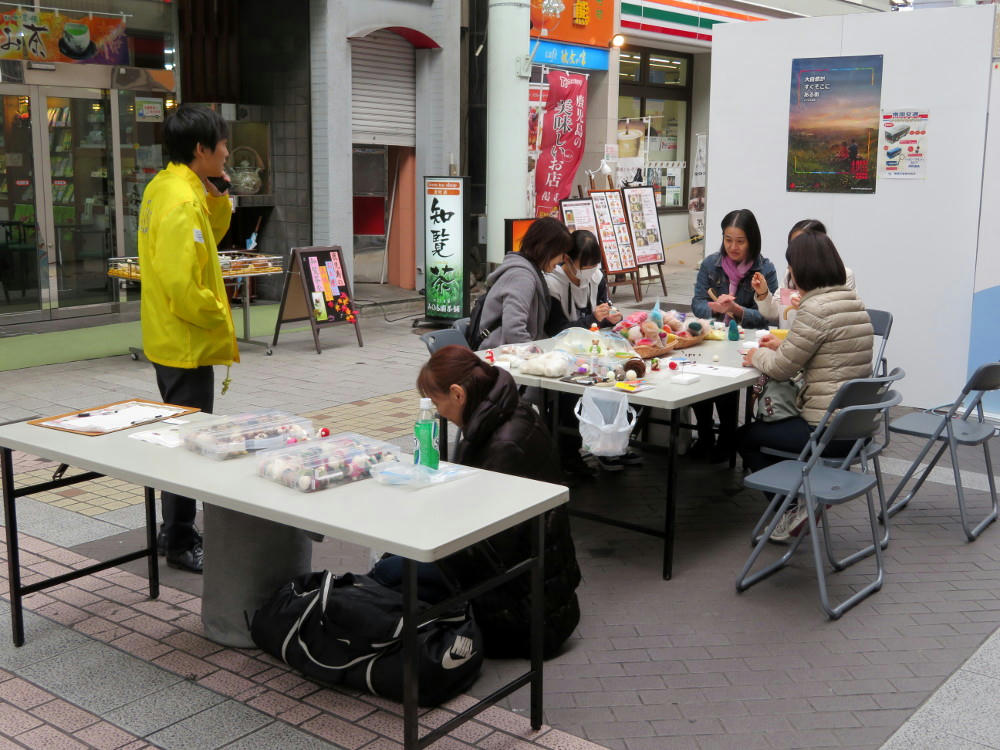 With people making stuff out of felt. The temps have fallen a bit in the last week, and it was maybe 53 degrees in the shade. A bit chilly for making cloth projects using glue out of doors.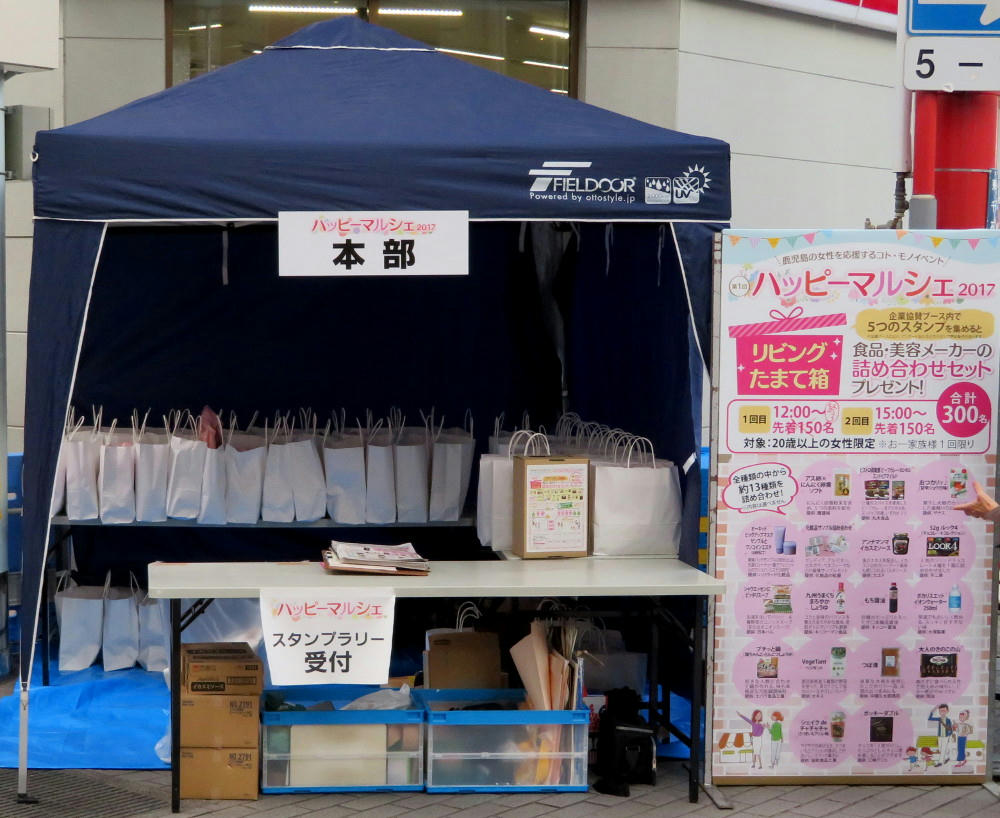 The Marche had a stamp rally of some sort. I'm guessing that if you spent money at some of the participating shops, you'd get a stamp card. The bags here are for those shoppers that completed the rally. I have no idea what's in them.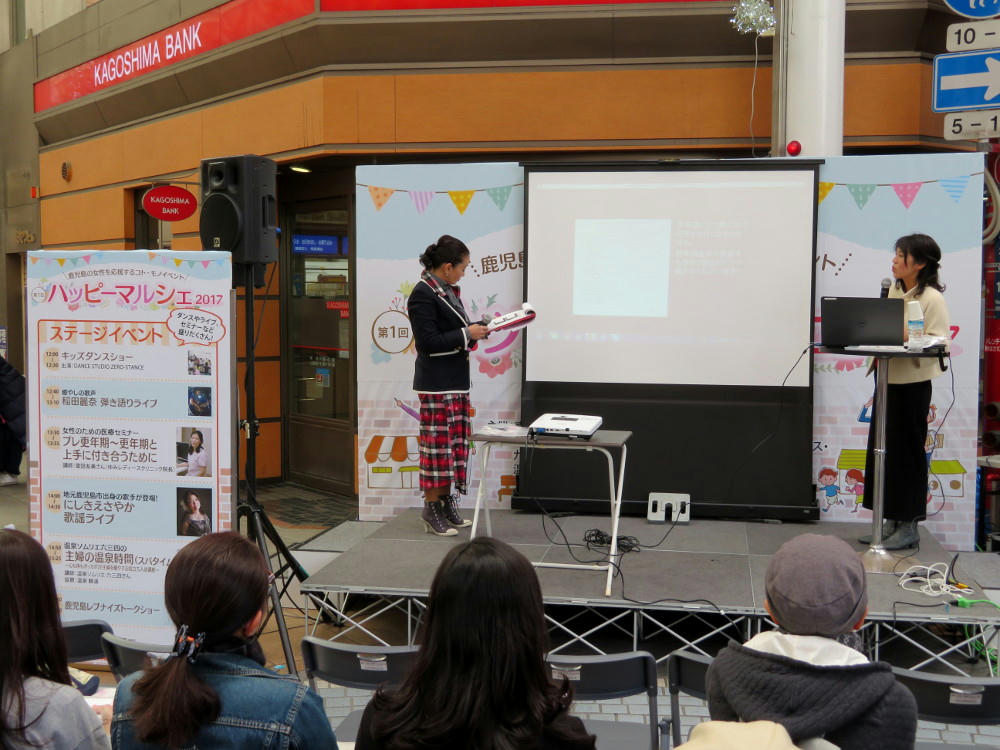 There was a live stage again, with two dance studio performances, a guitarist-folk singer, a classical singer, an advertisement for a hot spring spa, and a talk show with the Kagoshima Rebnise basketball team. Shown above is a presentation for women entering menopause. The slides were just as washed-out as they appear here. I had to do a lot of shopping for the coming week, and ended up missing pretty much all of the stage events. I would have liked to have at least gotten a photo of the Rebnise team, but I don't care for most pro sports, so that wasn't much of a loss. When I did get back to this area at 4:10 PM, the second of the two dance studios was doing their dance routines. Naturally, they used copyrighted music, so I didn't bother recording them. And, the dancers weren't all that good. Things ended shortly after.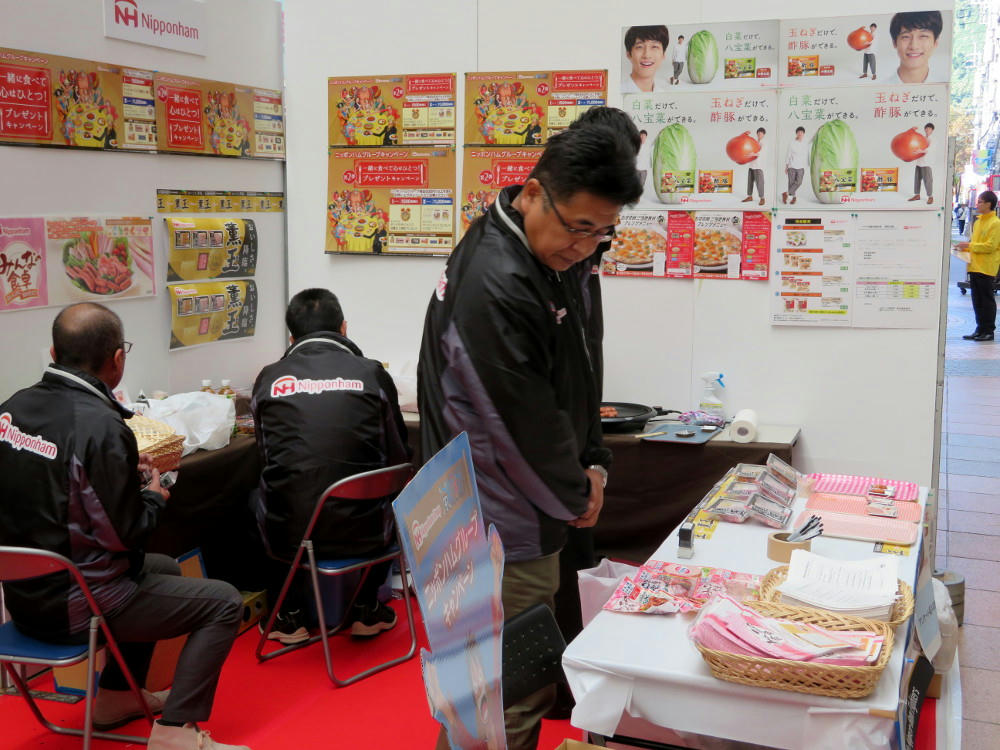 There were a few tables and booths participating in the Happy Marche, including this one. Now, I'm kind of forced to listen to a lot of Japanese radio when I'm at home, and I don't have a TV. During the baseball season, NHK carries some live coverage of some of the games. Occasionally I'll catch the names of the teams that are playing, and one team is the Nippon Hamu Fighters (Japan Ham Fighters). I've never known what a "nippon ham" is, and why it fights so much, but I've also never bothered to ask to find out. Well, this booth is run by
Nipponham
.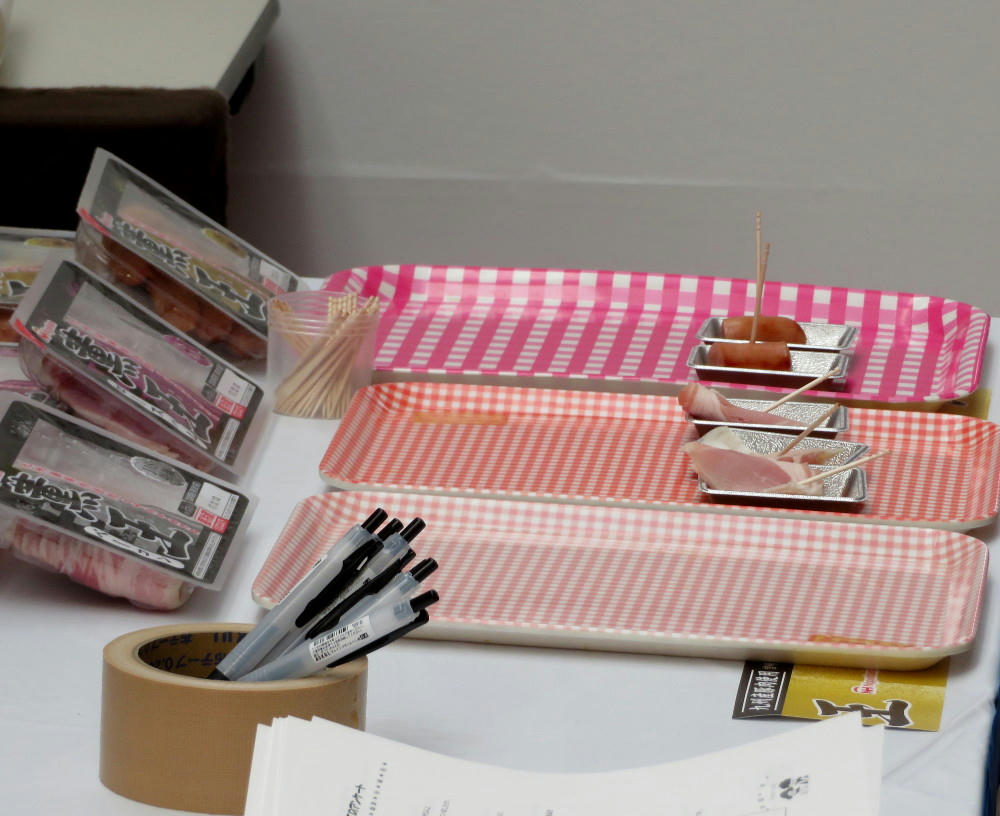 And, it's a company that produces and sells ham. I never would have guessed.
Anyway, it was a slow weekend entertainment-wise. No live music worth going out of the way for, and nothing special up at Amu Plaza this time. Which is ok, because some of my contract work has picked up a bit right now, and that's keeping me hopping.