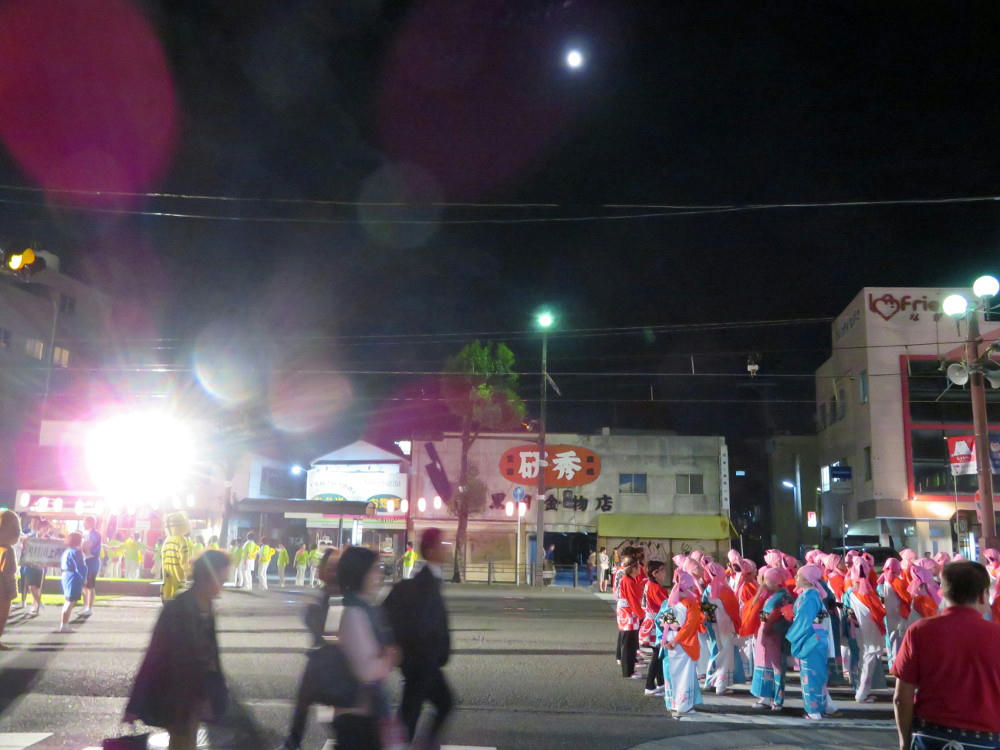 Another Ohara Matsuri is upon us. This is the annual street dance festival where companies and organizations field groups to perform two dances along Streetcar Street for about 2 hours, while traditional Japanese folk music plays over the PA system. I'd hadn't noticed it before, but Ohara seems to be related to the lunar calendar as a harvest event. This year, it was held on Nov. 2nd and 3rd - Thursday night and Friday afternoon. It's a local holiday, and many stores are closed on the second day. I had to work Thursday night, but the school entrance is 20 feet from part of the parade route, so when I got out at 7 PM, I was just in time for the opening ceremonies, which consisted of some taiko, and then a bunch of boring speeches. The actual dancing didn't start until a little after 7:30.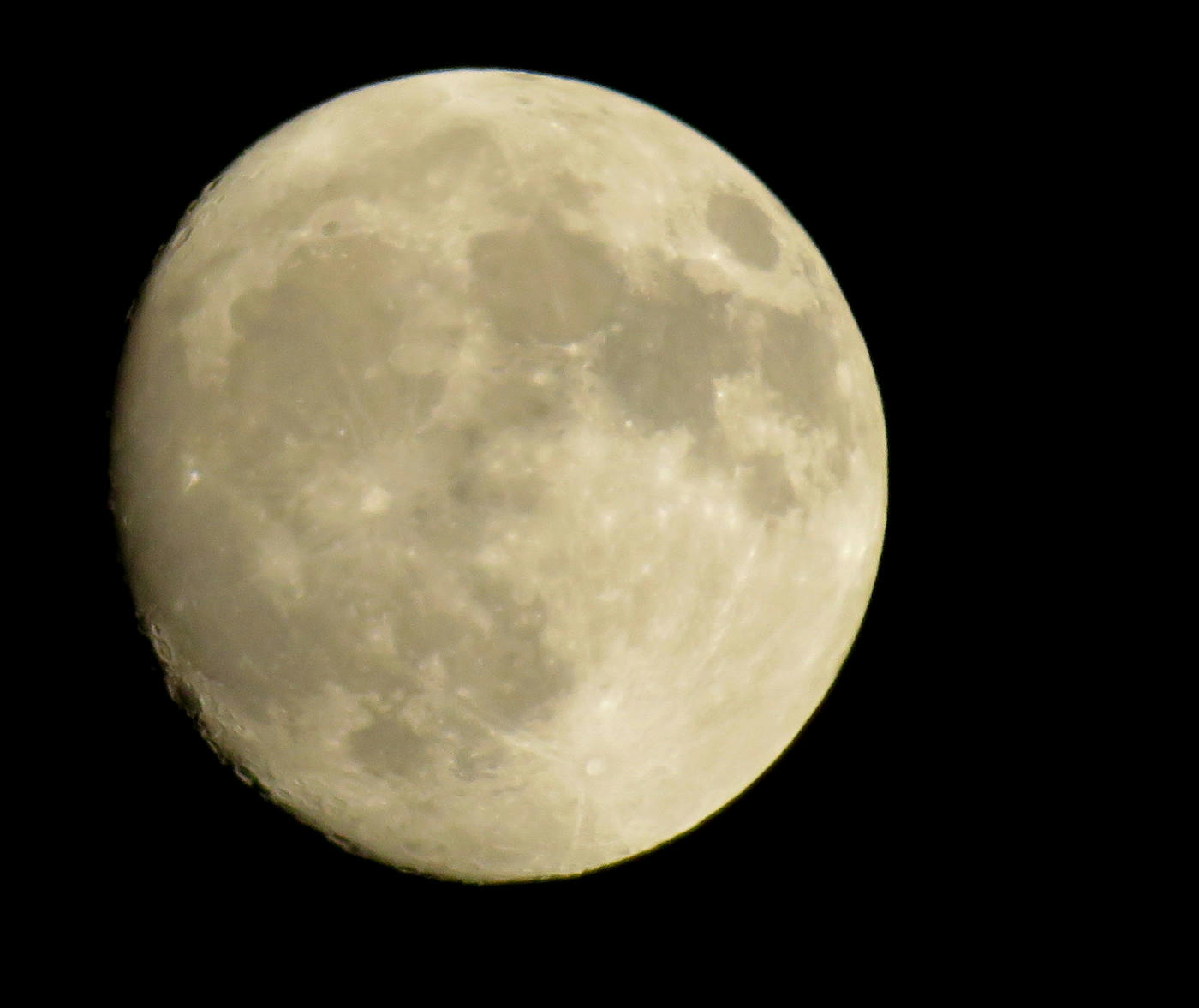 After the last few weeks of rain, heavy winds and stuff being cancelled because of typhoons that don't actually hit the area, I was expecting things to keep in that pattern this week. But, the weather was good, and when I got out of the school the first thing that greeted me was a near-full moon hanging over the parade route. That was nice.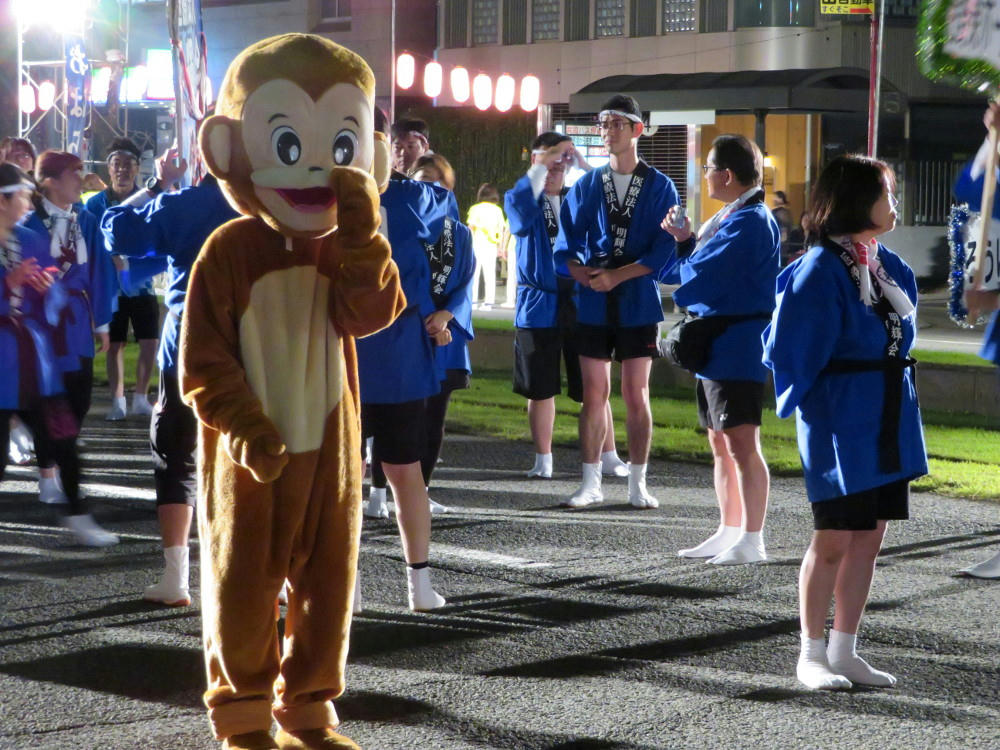 There's no real guideline for how groups can dress. Many of them have a specific outfit or color scheme that everyone in the group follows, but a lot of the companies like to go for "goofy" in one form or another.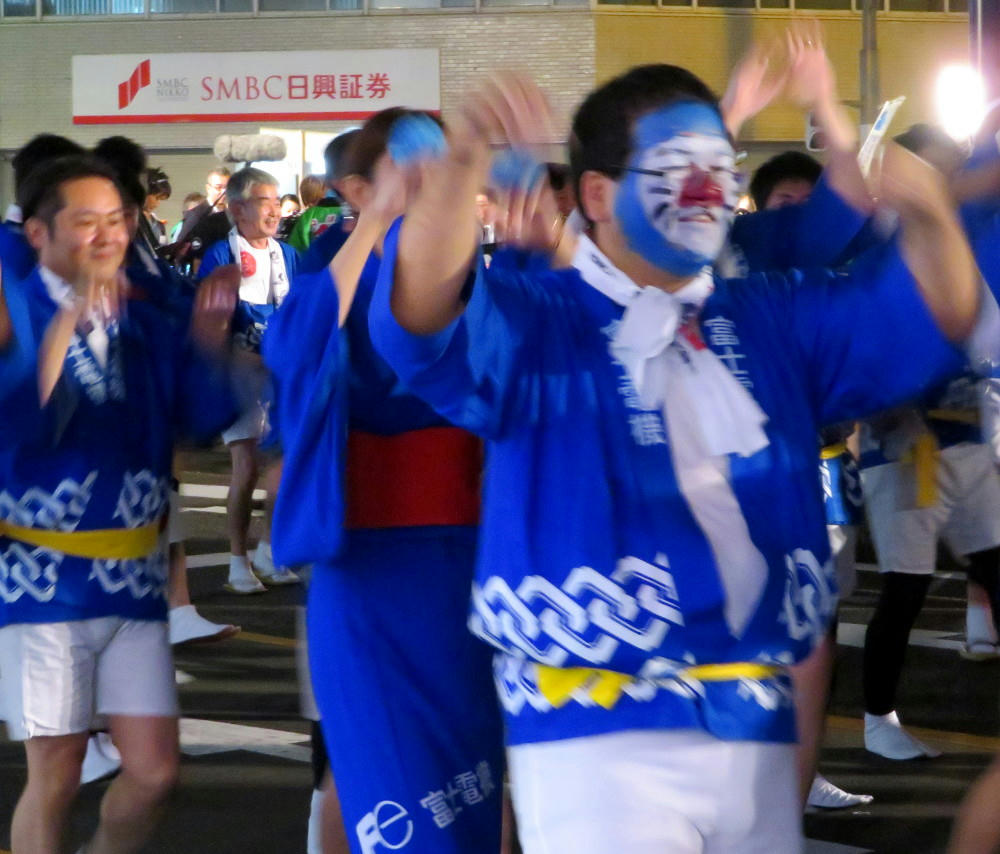 The first night is more for adults, although many children do join in with their parents.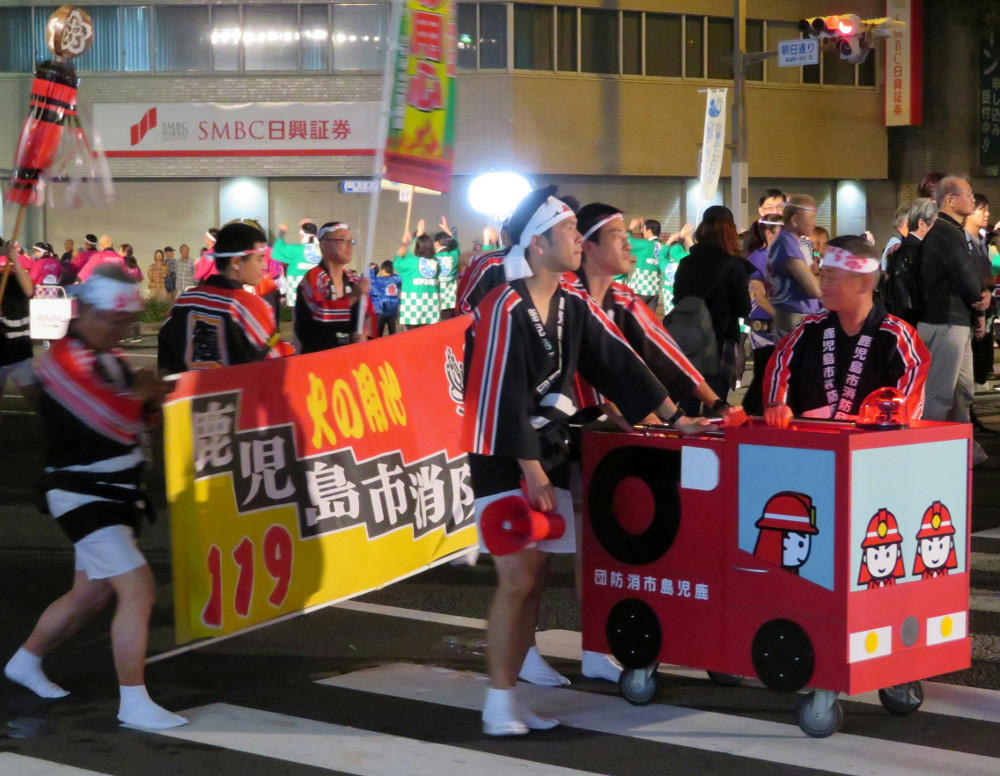 The Kagoshima Fire Department with their themed drinks cooler.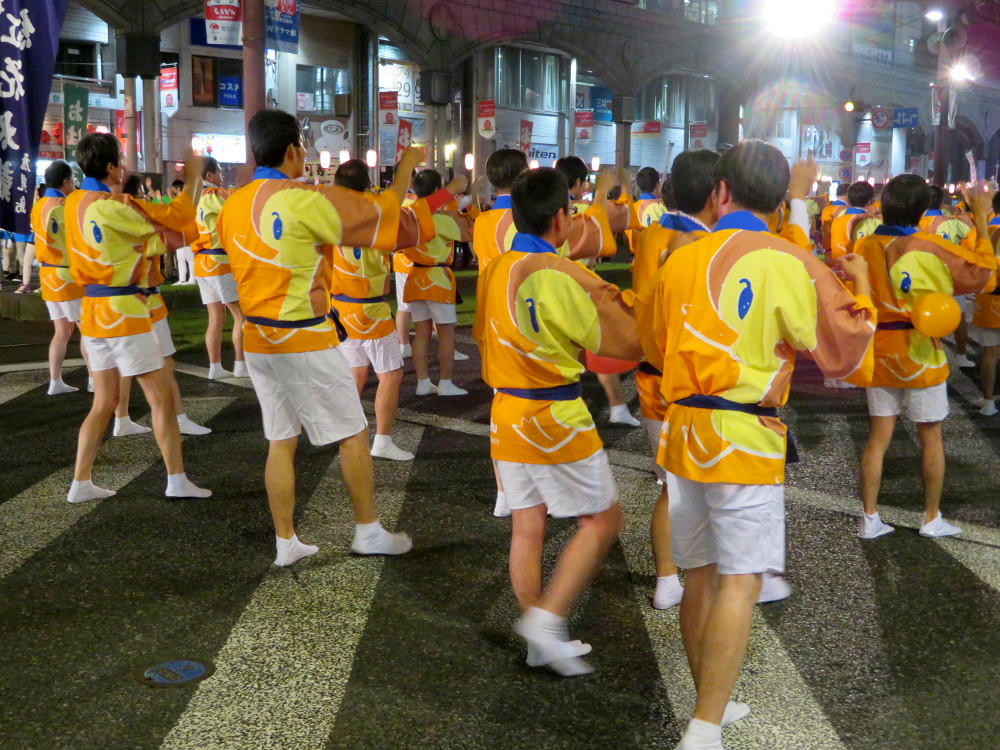 I think this group is from an insurance company. Ducks.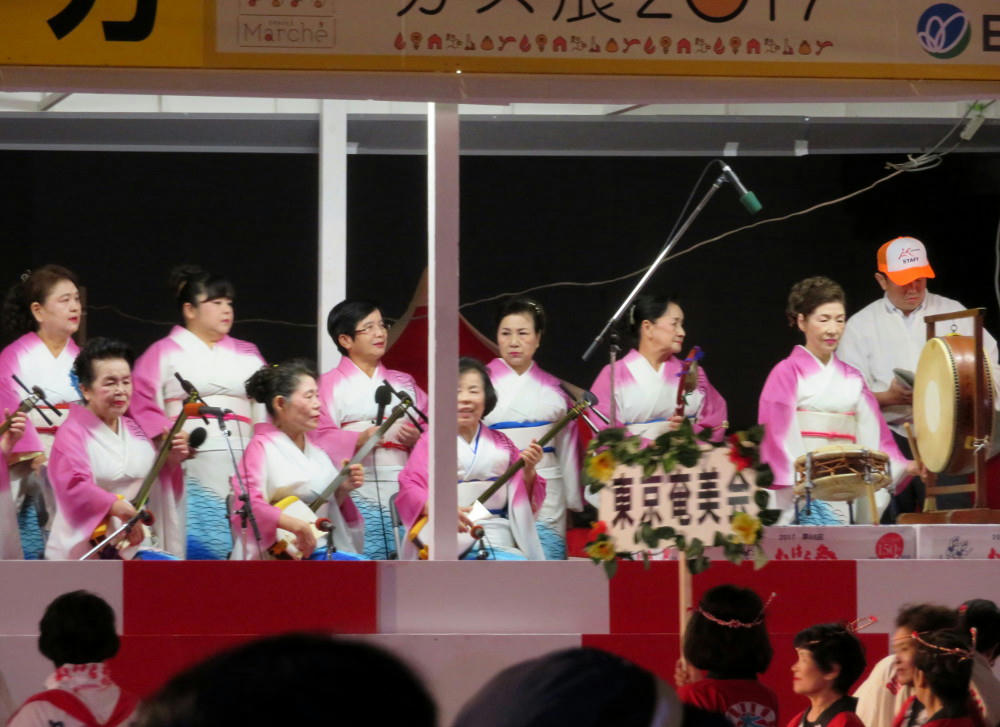 Some of the women playing the music live that everyone is dancing to.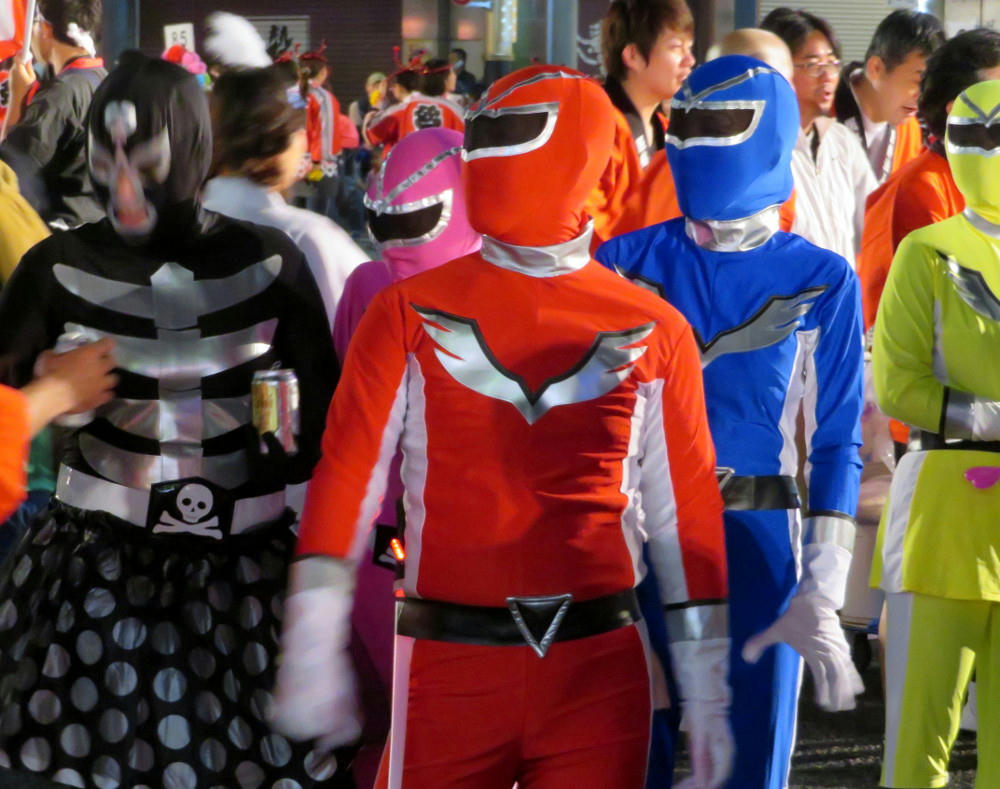 Power Rangers, switch... ON.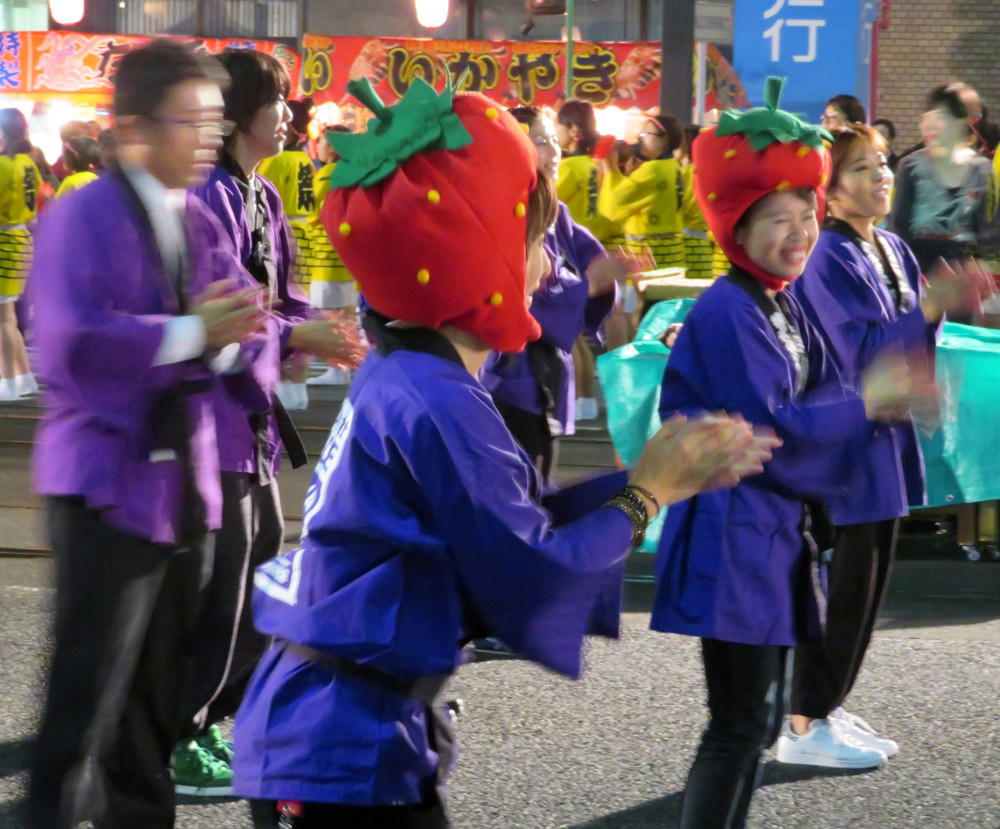 Sometimes, you just don't need a reason to dress up like a strawberry.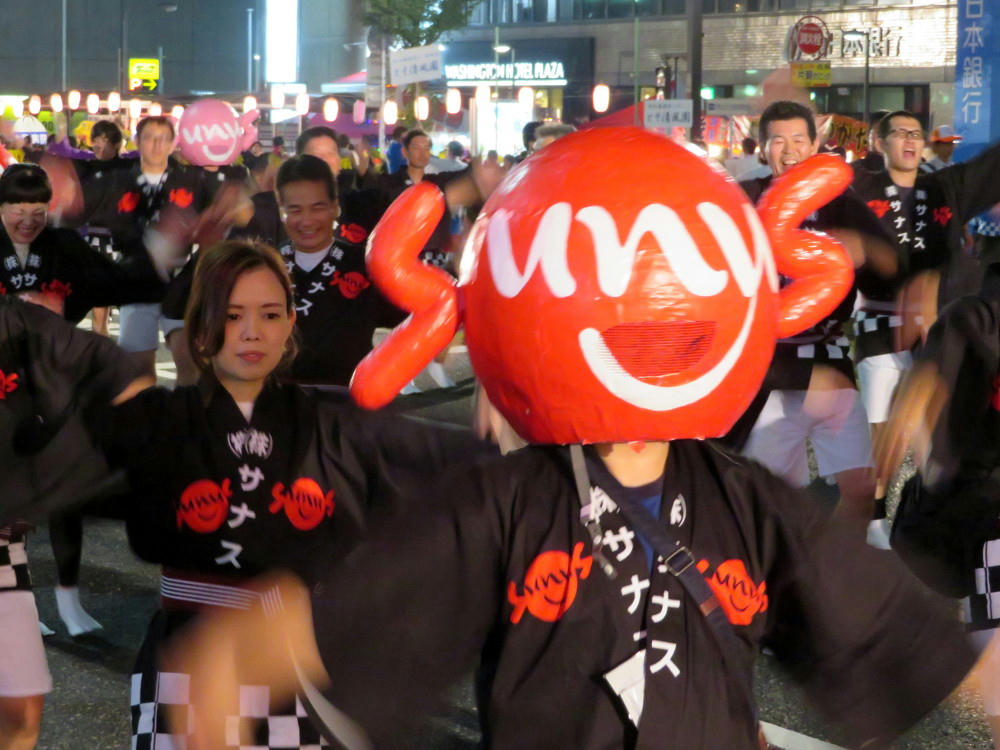 Sunus is a food production equipment manufacturer, for making starch. Not sure what the crab head design is supposed to represent, though. Or, maybe it's supposed to be a wrapped hard candy...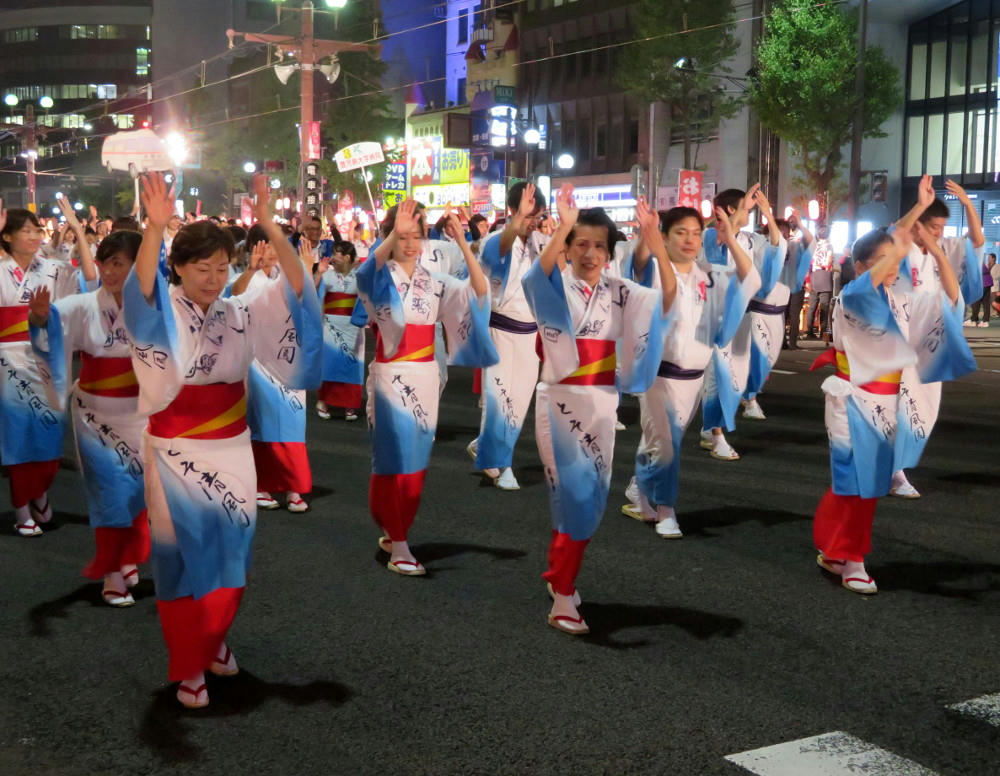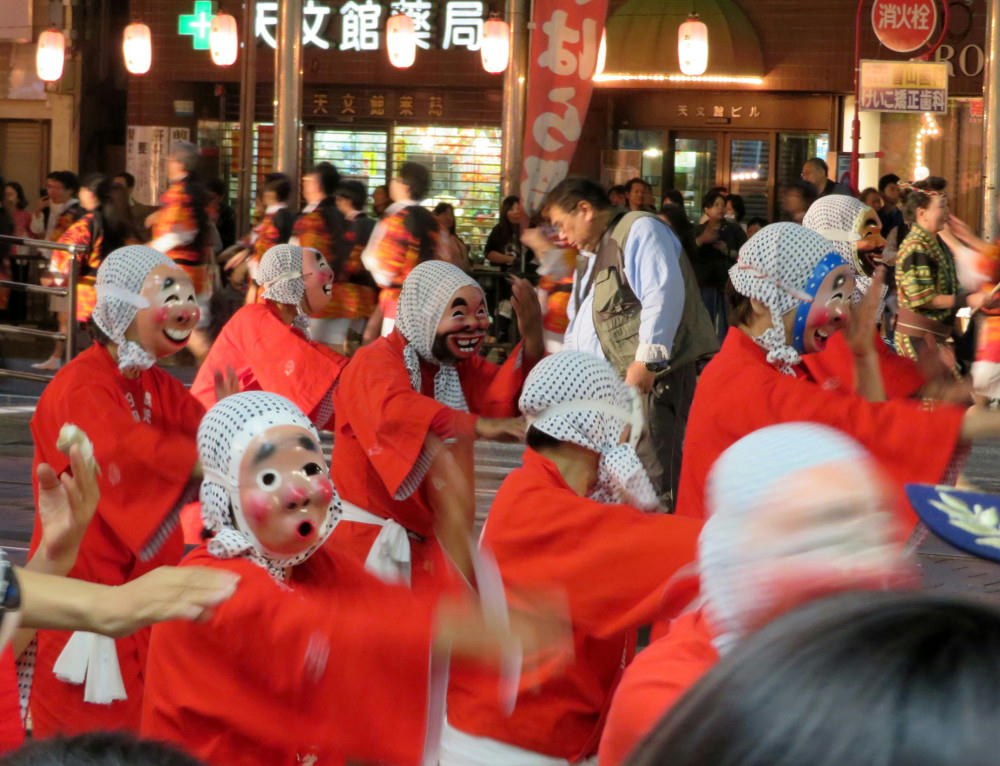 I didn't record any video this time, either. Ohara is pretty much the same every year, and I already have sampler videos on youtube from a few years ago, if people want to watch them again.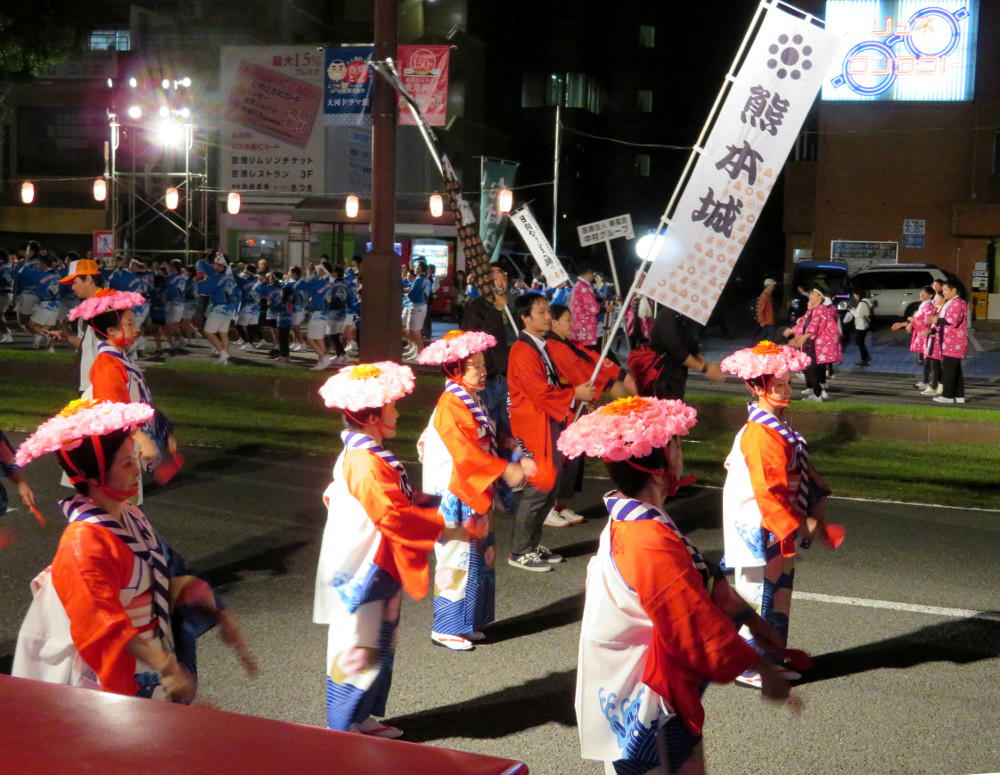 Flower power.
Shochu Street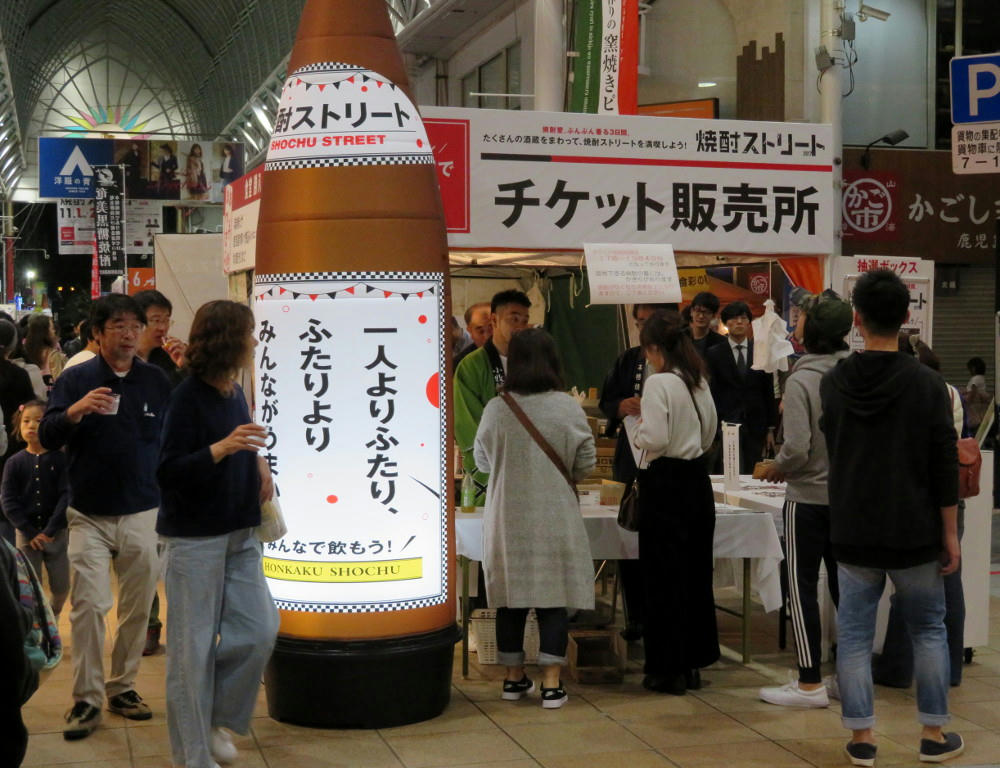 Running concurrently in Tenmonkan a block away was Shochu Street, a food and drink event sponsored by some of the local shochu makers. I didn't get anything from the booths here because Ohara had free shochu available during the breaks between dances, and I had dinner waiting for me at home. But, the event ran from Nov. 1st to the 3rd, and as I write this on the night of the 2nd, there's always the chance that I may get tickets for shochu on Friday after my 3 PM lesson. On the other hand, Ohara ends at about 5 PM, and I don't know the hours for Shochu Street (on Thursday, they shutdown a little after 8 PM, which was disappointingly early). One of my students got a ticket sheet with spaces for 6 stamps. Each stamp gets you one drink, and I think its $6 for the sheet, but I'm not sure. If so, it may be a bad idea to pay $6 at 5 PM, and only have an hour to finish all six drinks if the event ends at 6 PM...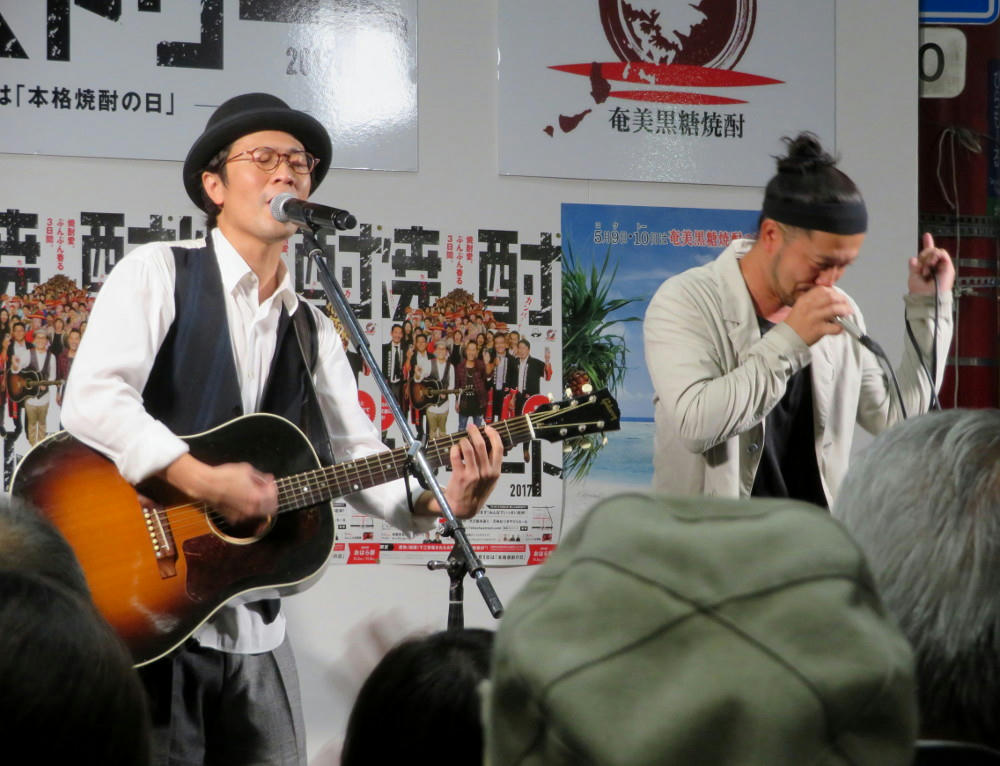 They had a small live stage in the space in front of 7-11. I'd looked at the schedule board on Wednesday, and most of the performances listed for all three days were advertising and promotional activities. The only real exception was the 7:30 live music on Thursday with these two guys, going by the band name
Catherinechu
(they're a local duo). They were loud, on the noisy side rather than musical side, and I didn't care for them much, although the audience loved them. I only hung around long enough to tell that it's not my kind of music.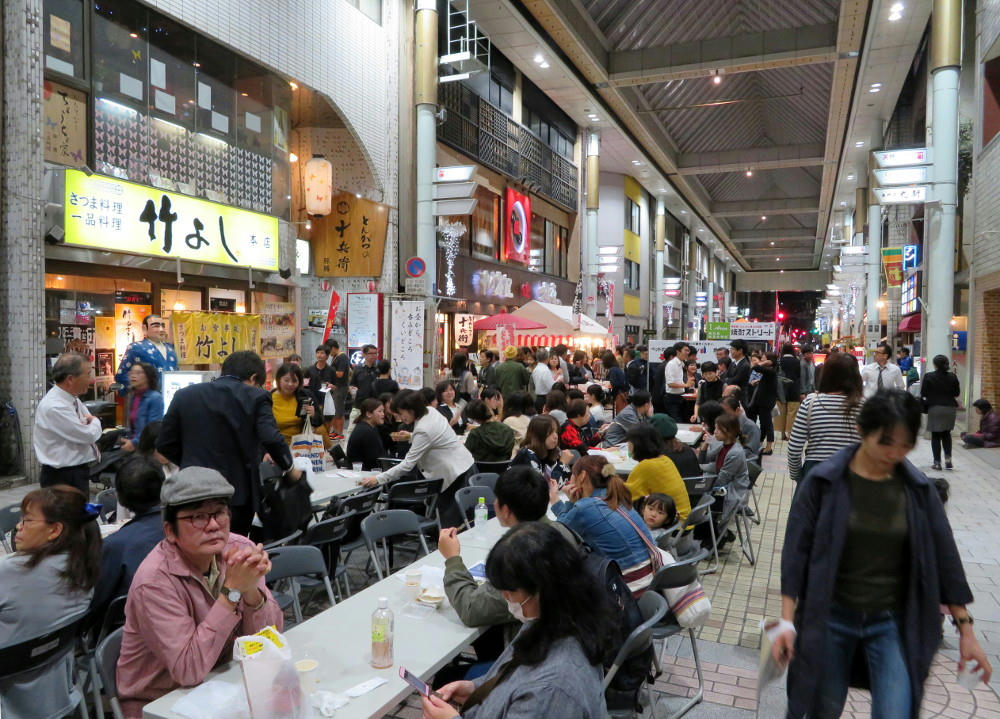 People love eating and drinking. The neighboring restaurants just wish they could have these kinds of crowds themselves.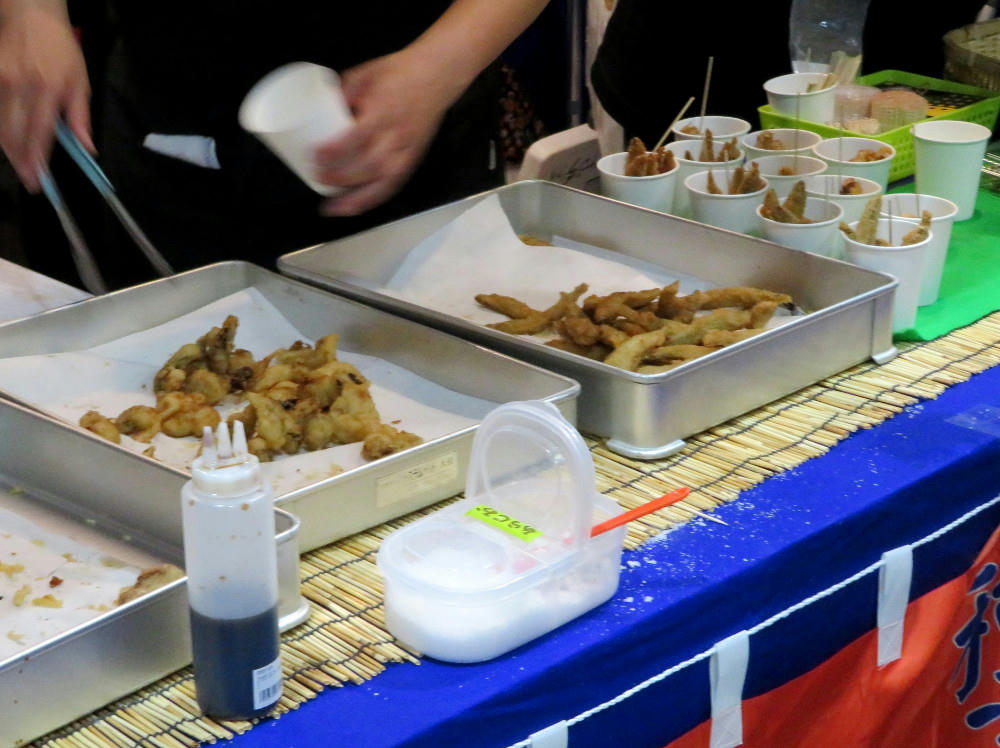 Fried thingies on a toothpick.