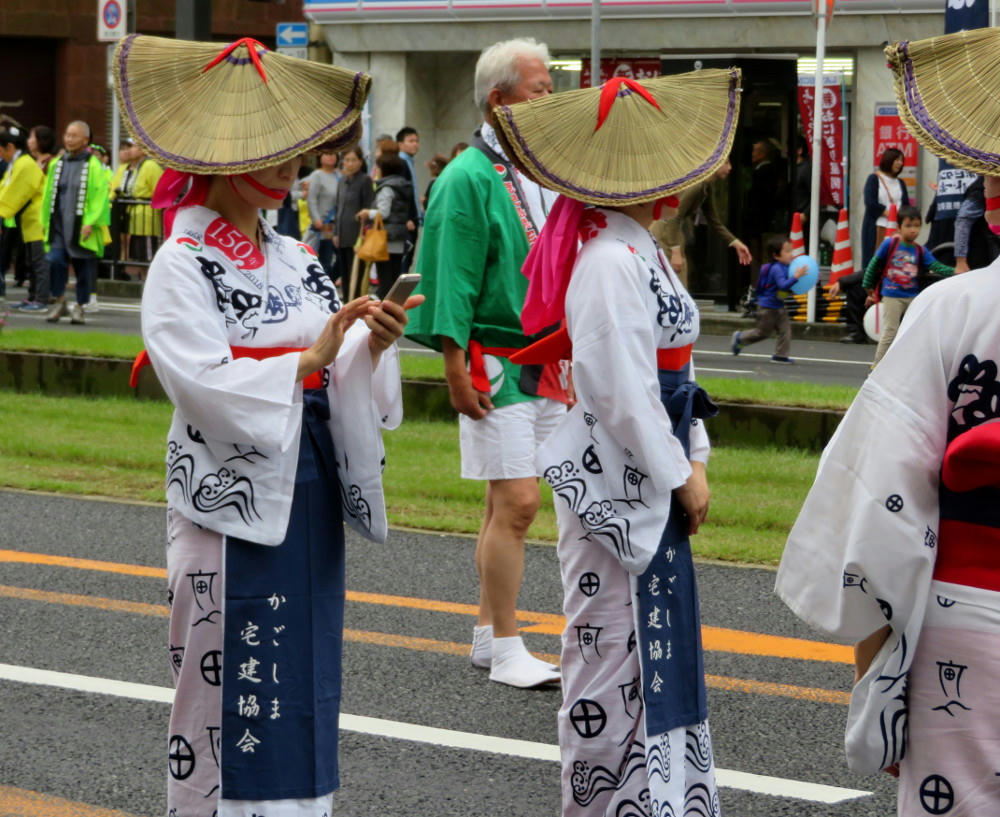 While the weather was perfect Thursday night (clear skies, and comfortably cool temps), things turned rainy and heavily overcast just a few hours later. We had rain in the early morning, which ended before the second day's parade started at 10 AM, but then came back around 2:30 PM in the form of a light drizzle, and turned into a heavier rain by 5 PM. I had one class on Friday, at 3 PM, and I wanted to see as much of the parade as I could. However, I'd had a late night and couldn't get out of bed until 11 AM. After getting some work done on the computer, having breakfast and taking a shower, I didn't get out of the apartment until 1:30 PM. At that point, the dancers were taking a break, and the announcers were filling the air with banal banter.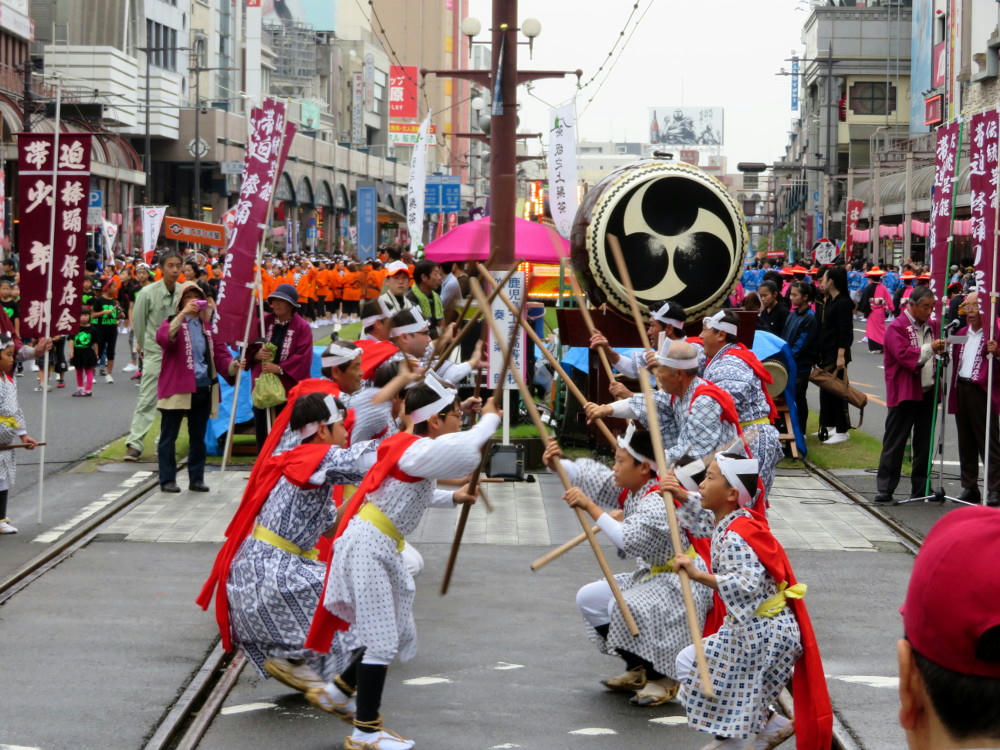 However, there were demonstrations at three of the intersections, which included taiko, and these stick dancers. I couldn't tell if the dancing was a form of martial art, or if it represented a rice harvest.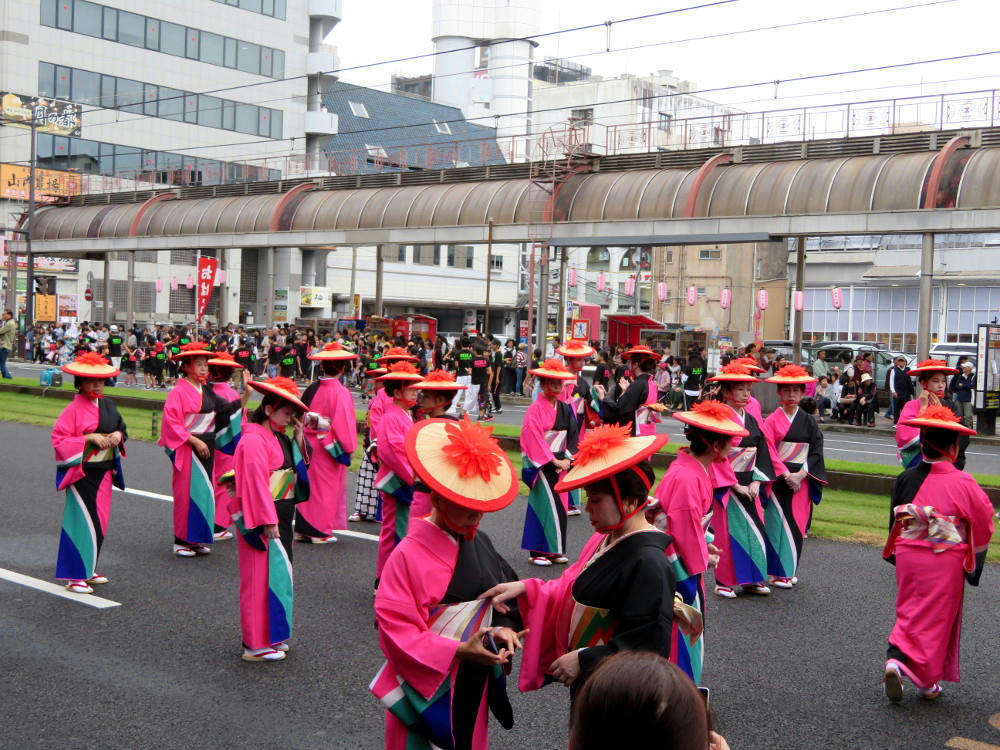 With nothing else to do for about an hour, the dancers talked, checked their phones, and generally just milled about. Even so, many of the costumes still looked visually interesting.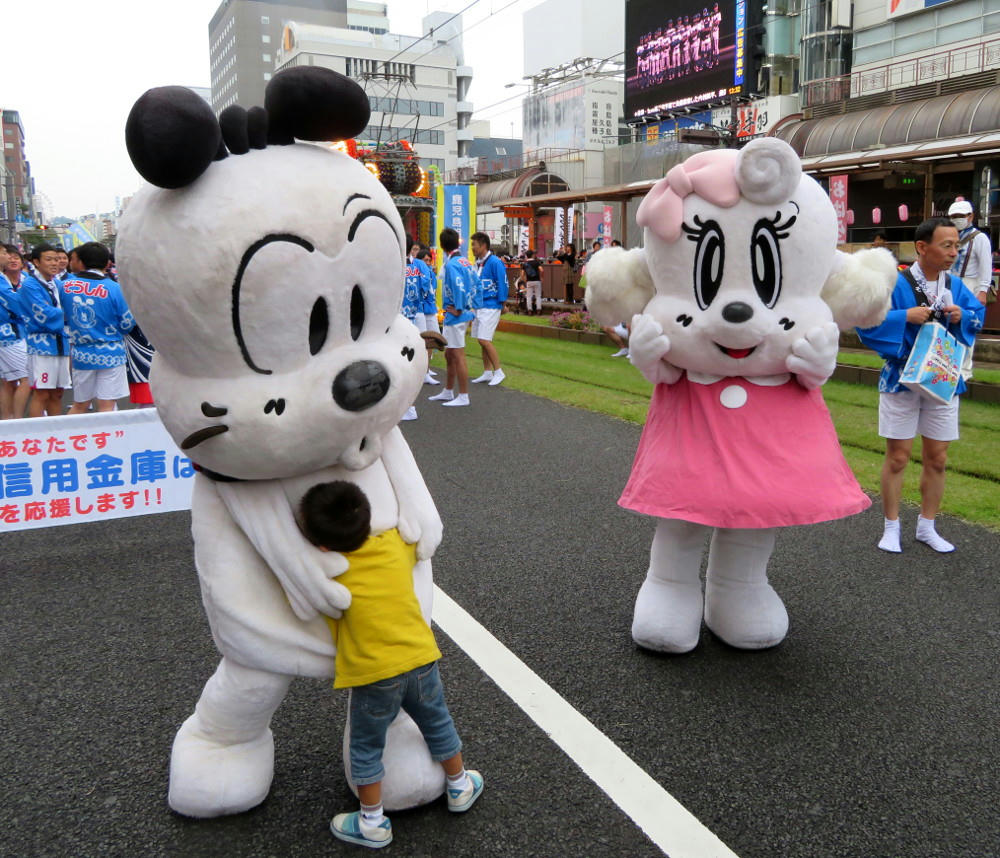 Sometimes, you just need a big fuzzy hug.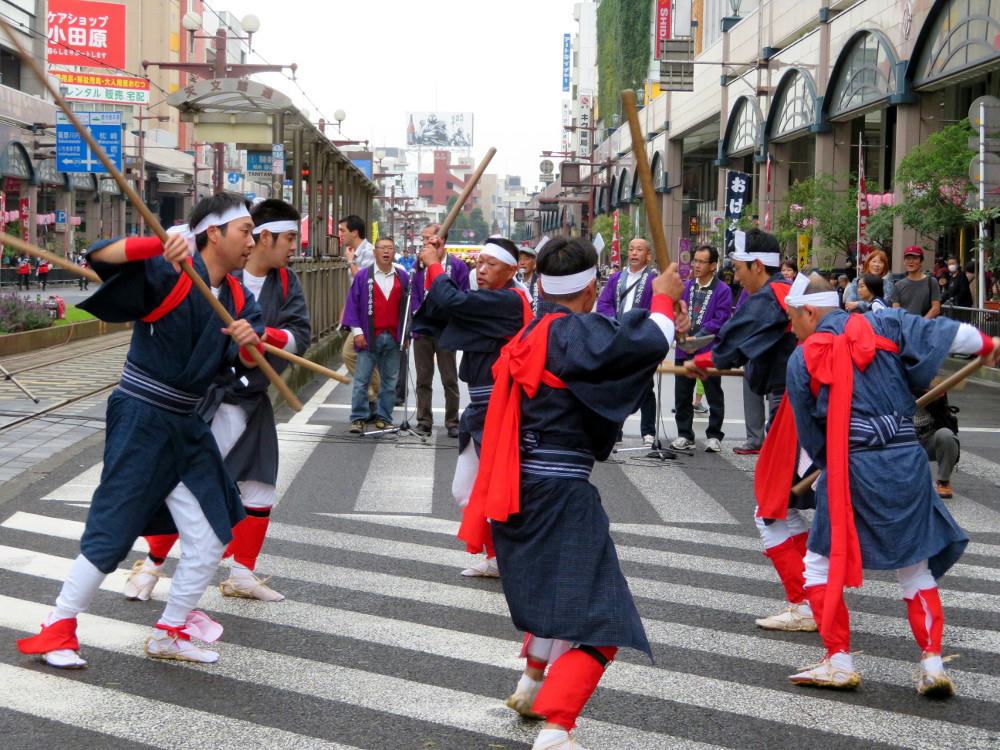 A second group, this time of adults, did a similar stick dance. I'm still unclear on what the dance represents.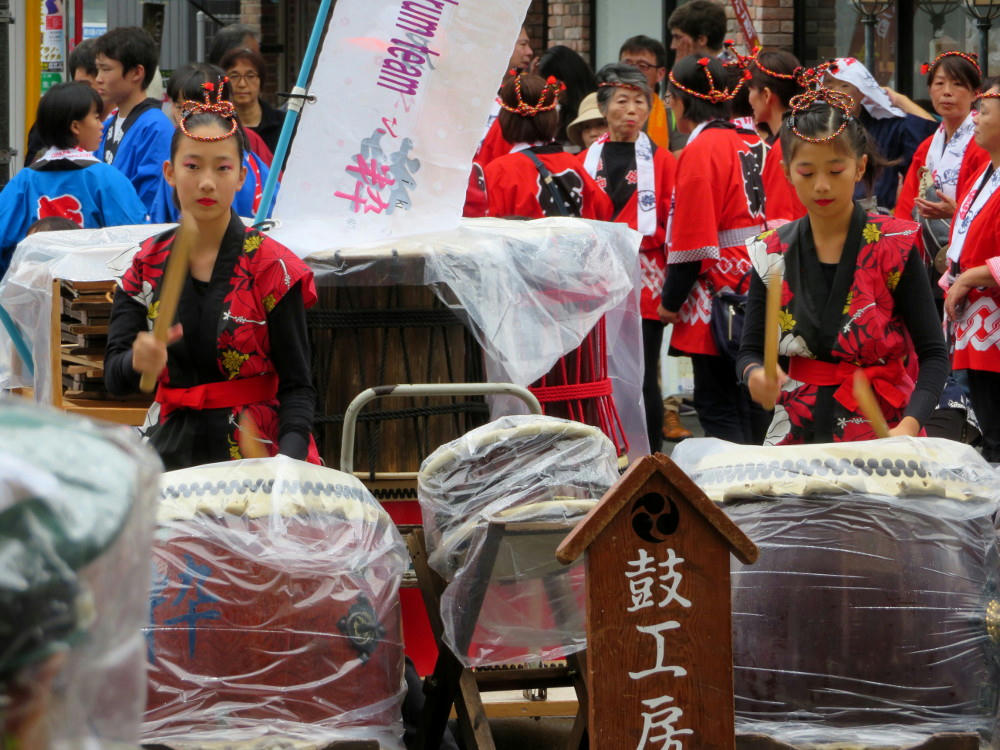 It's starting to rain now, and the taiko drums are wrapped up in plastic sheets to protect them. This team of school kids was pretty good.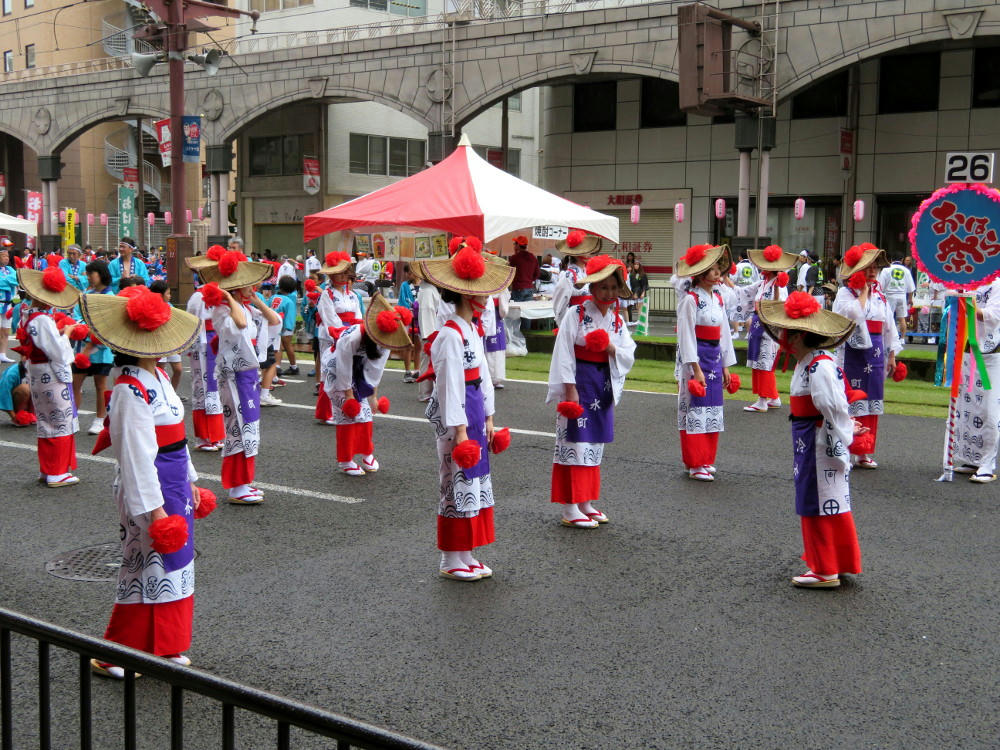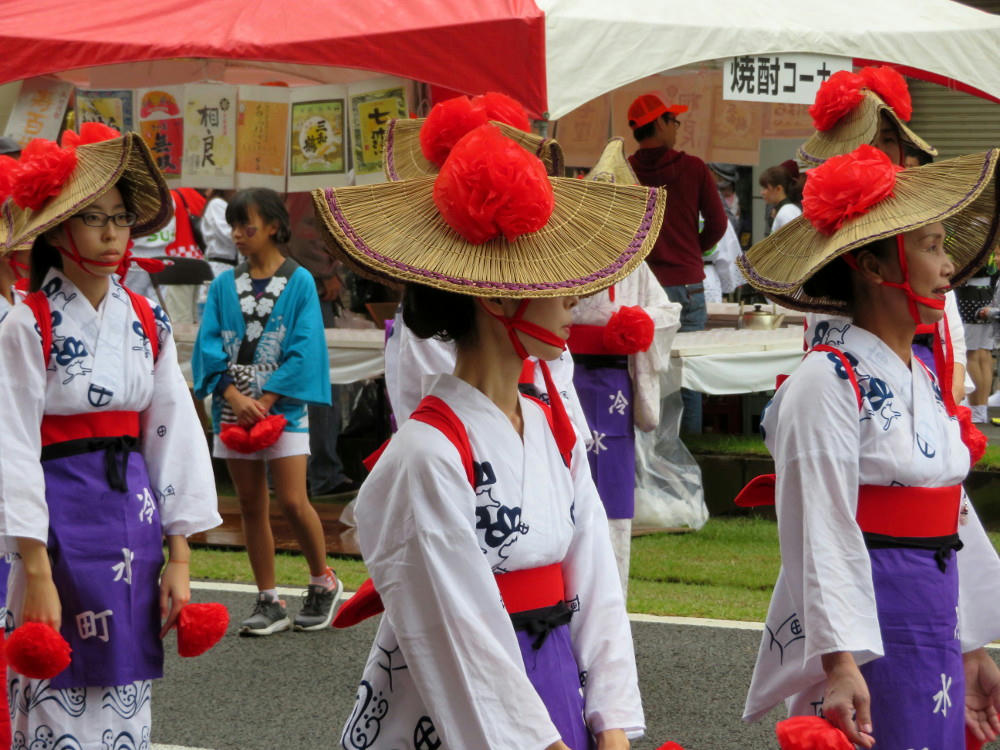 These types of straw hats seem to be typical of dancers from northern Kyushu, and Nagasaki, although the dancers themselves are probably from a company based in Kagoshima.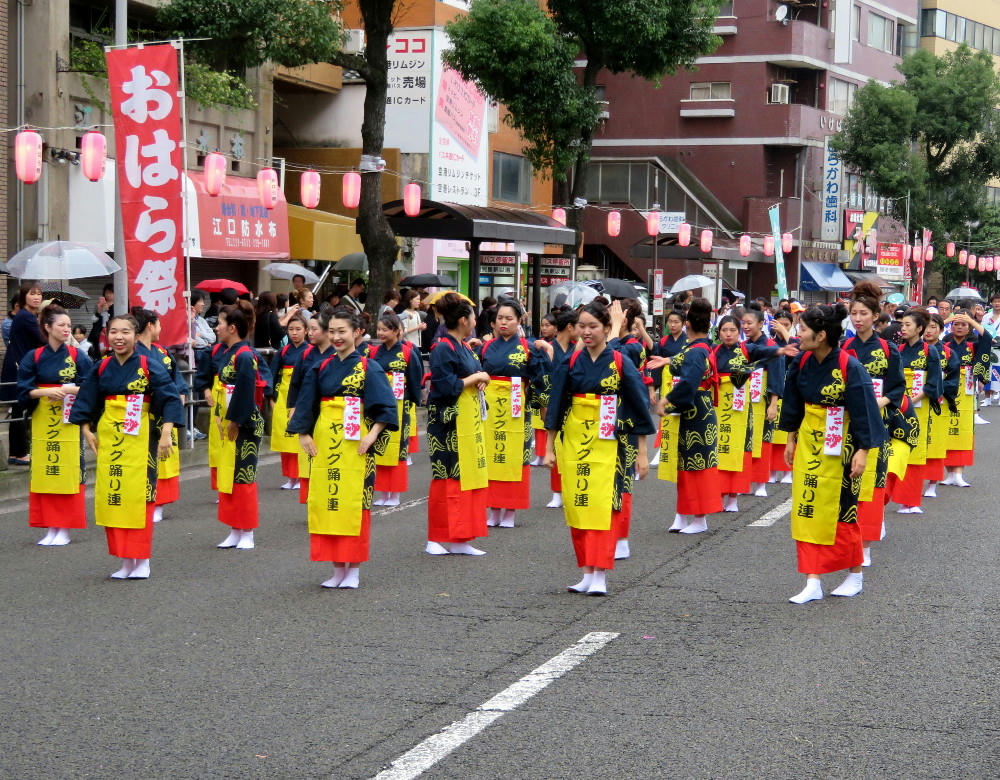 Some team outfits just beg to be photographed in large groups.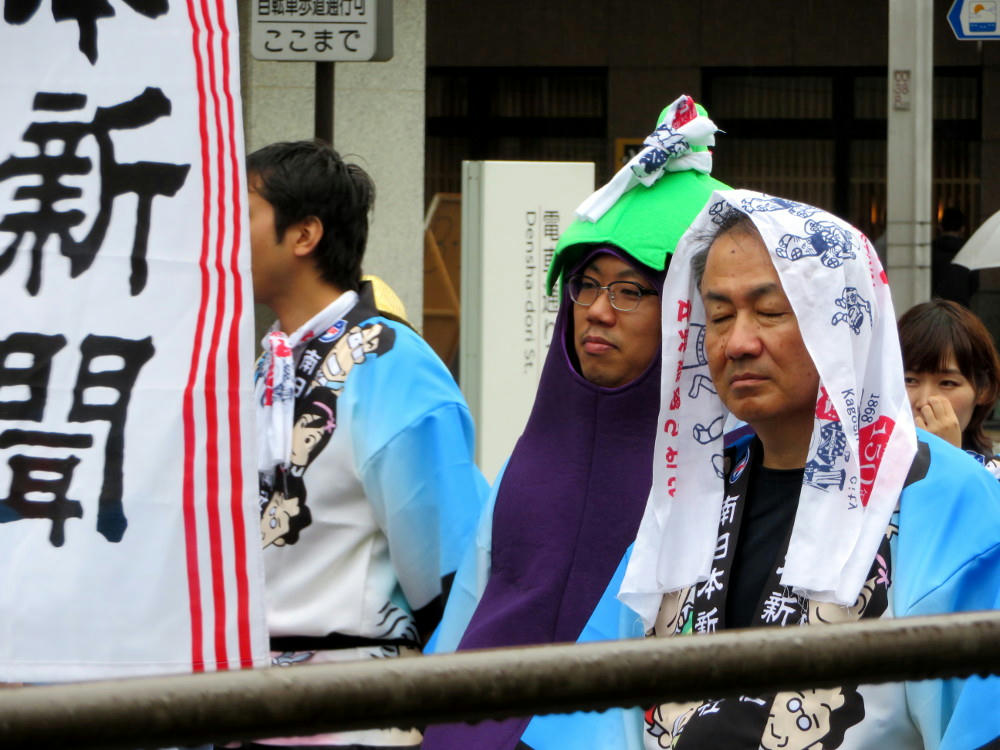 And, sometimes, you just have to let your inner eggplant out.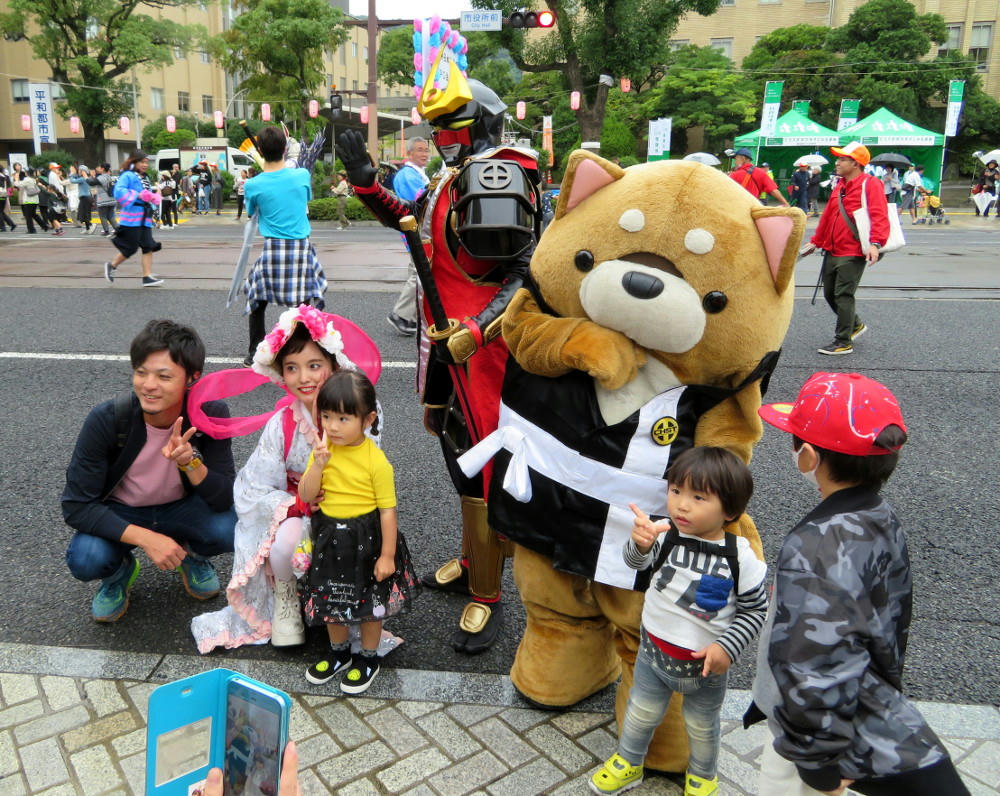 Meanwhile, there was a smaller festival on the boulevard in front of City Hall, with its own live stage. The characters here are mascots for promoting Kagoshima, including Kenshin Hayato (the guy dressed like a robot), the dog (which is probably supposed to be the pet that Saigo Takamori kept) and one of two magical princesses. The group had just finished a stage show where they fight against a fox god and his minions, and are posing for photos afterward. I saw a similar show at Ohara last year.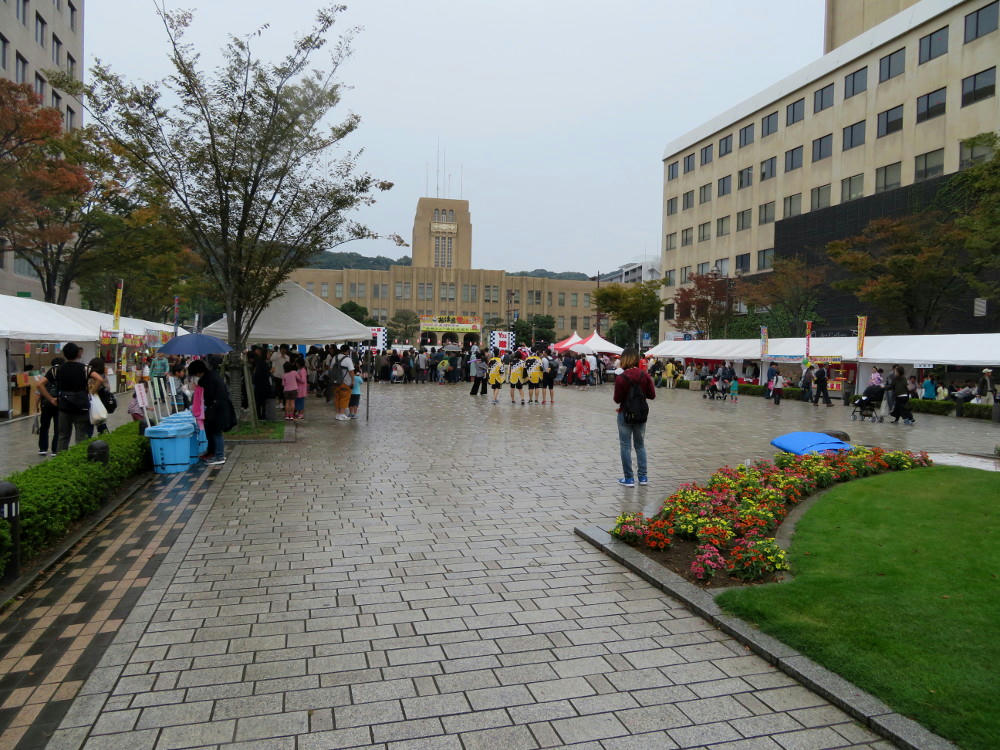 A picture of the crowds in front of the live stage with City Hall in the background. There's maybe 200 people in the area at this point.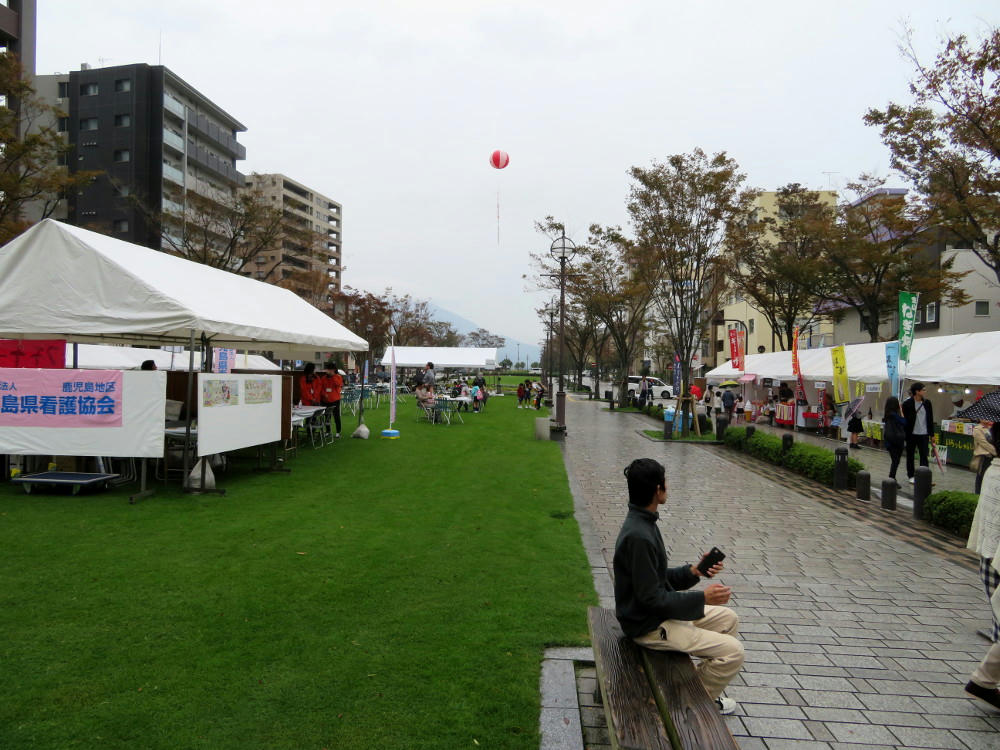 And looking down the boulevard the other way, showing the food tables. Not a lot of customers buying food now.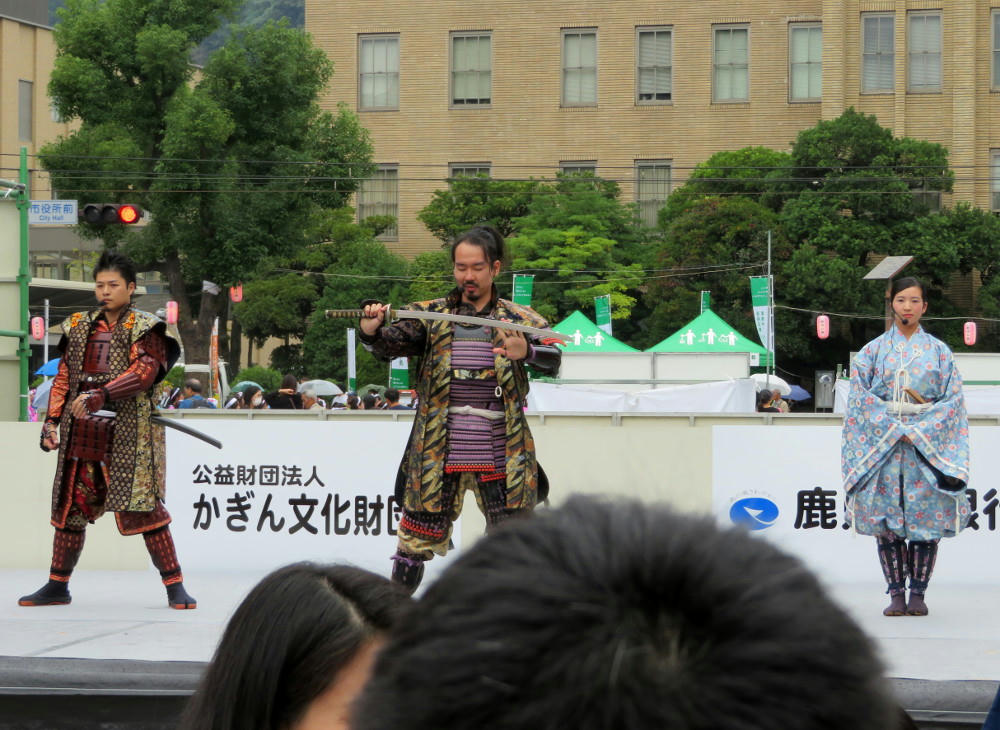 A second stage show was just starting up at 2:45 PM, with the three actors announcing their characters as being Edo-era "fighters for justice," prior to going into a dance routine and play-fighting. Unfortunately, the rain started coming down harder, and before I could start recording the show, the people in front of me all opened up their umbrellas, blocking the view for everyone behind them...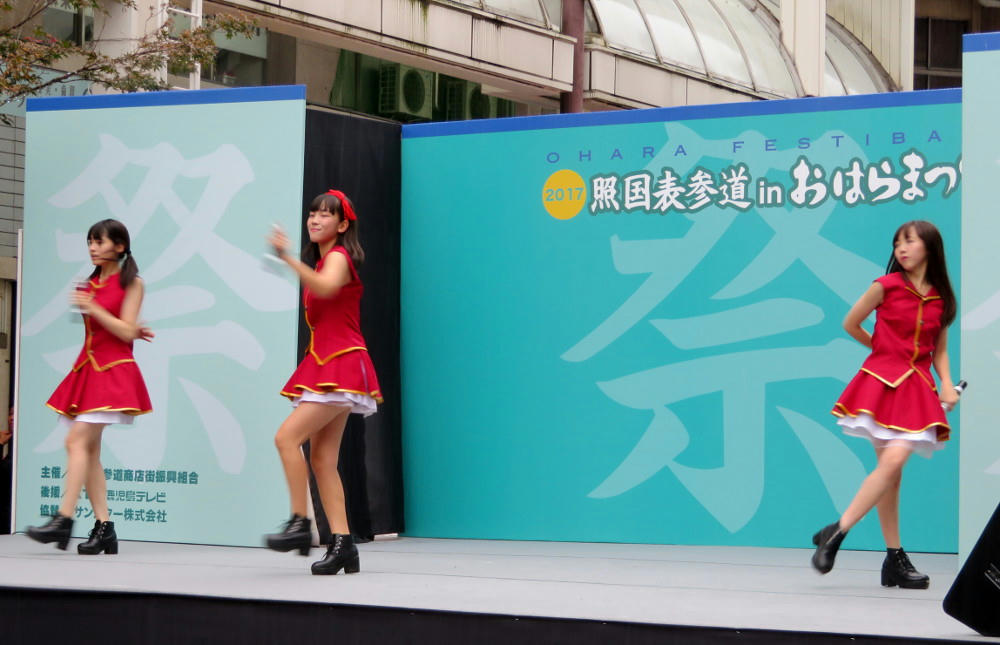 Meanwhile, again, up at Tenmonkan, on Omotesando street, a stage had been erected over night in the middle of the street. (I'd walked by here Thursday night on my way home from the school, and the street was empty at that time.) According to the schedule board, most of the stage shows were for promotional events. Right at this point, three members of the Seven Colors idol dance group were singing and dancing, while a small but very vocal fan club was shouting out encouragement to them. The fans were distracting enough that I didn't bother taping the dance, which was a cover of a copyrighted song anyway.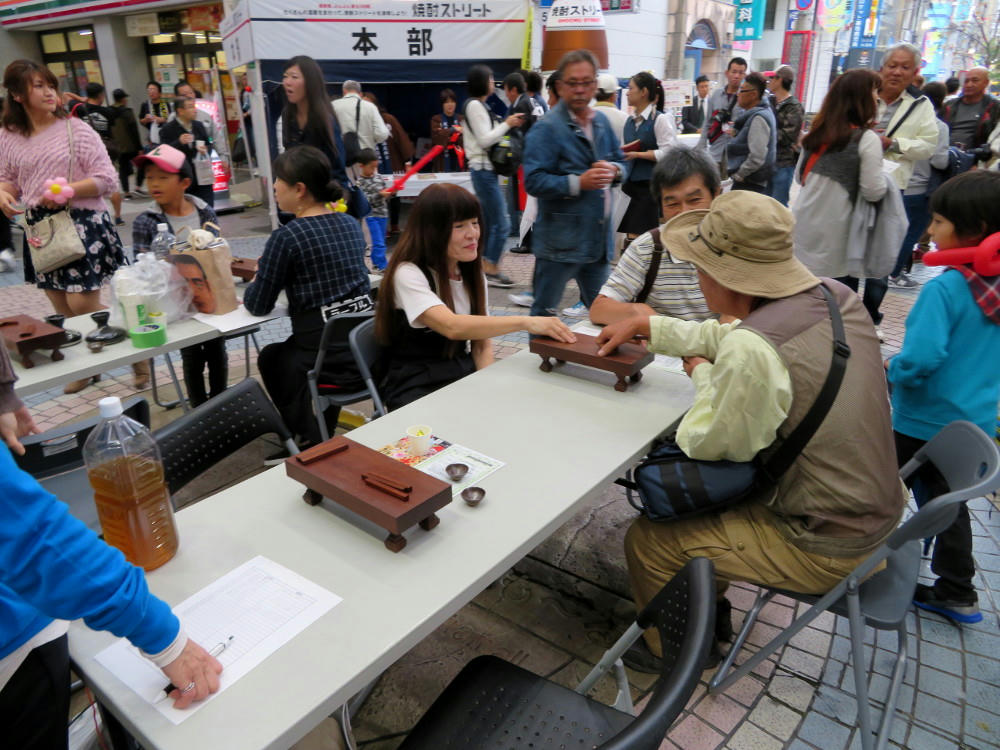 Meanwhile three, back at Shochu Street in the center of Tenmonkan, along with all the food and shochu being sold at the booths, there was a Nanko tournament being held. This is a guessing game on the order of poker. Two players face off against each other and bluff for about a minute about the number of sticks they're holding in their hand, then they do the reveal and the one with the best bluff gets the point. I'm unclear on the exact rules, and there aren't any pages in English that I can find. It's apparently a game specific to the Kagoshima area.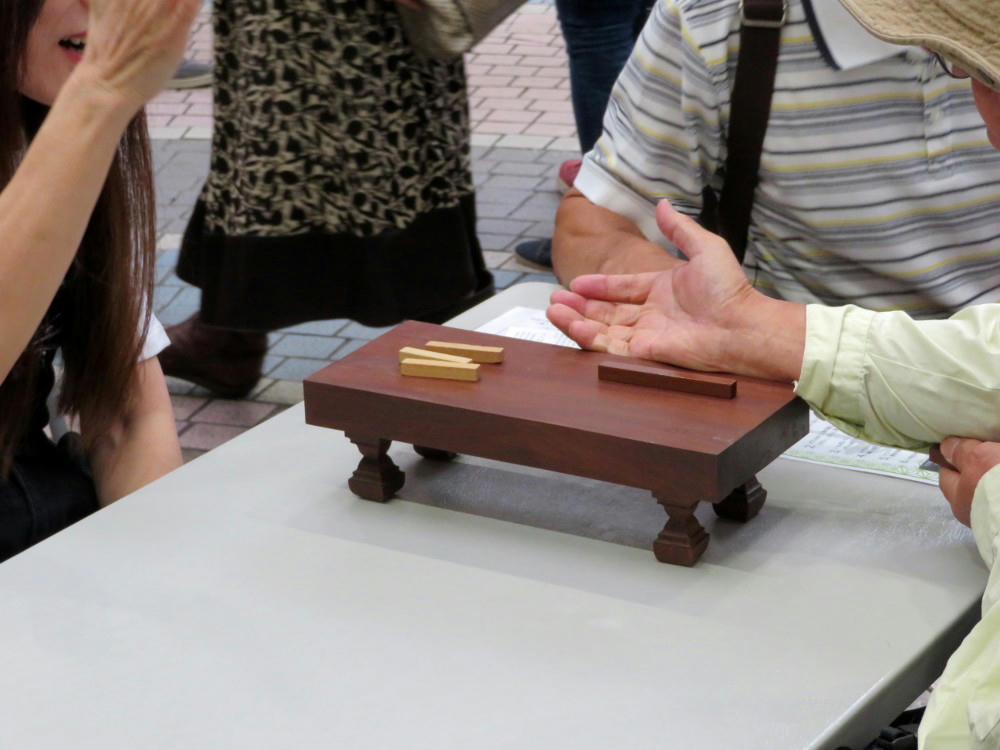 I'd written in the previous blog entry about Shochu Street that it was running concurrently with Ohara matsuri, and that I was considering possibly getting tickets for the drinks after my classes on Friday. But, when I did get out at 4 PM, the rain started coming down harder, causing the Southern Cross stage to get cancelled early. The dancers on Streetcar Street kept dancing in the rain, although the weather made taking further pictures less than attractive. And, when I got to Shochu Street, I really couldn't justify buying a ticket card for 6 drinks and then having to chug them quickly before the event shut down. Plus, I can always get little sampler bottles of the shochu from Don Quixote (a cheap discount souvenir shop nearby) for less money. Instead, I looked around at the dancers and stuff a little longer, then went home for dinner and to work on the computer for the rest of the night.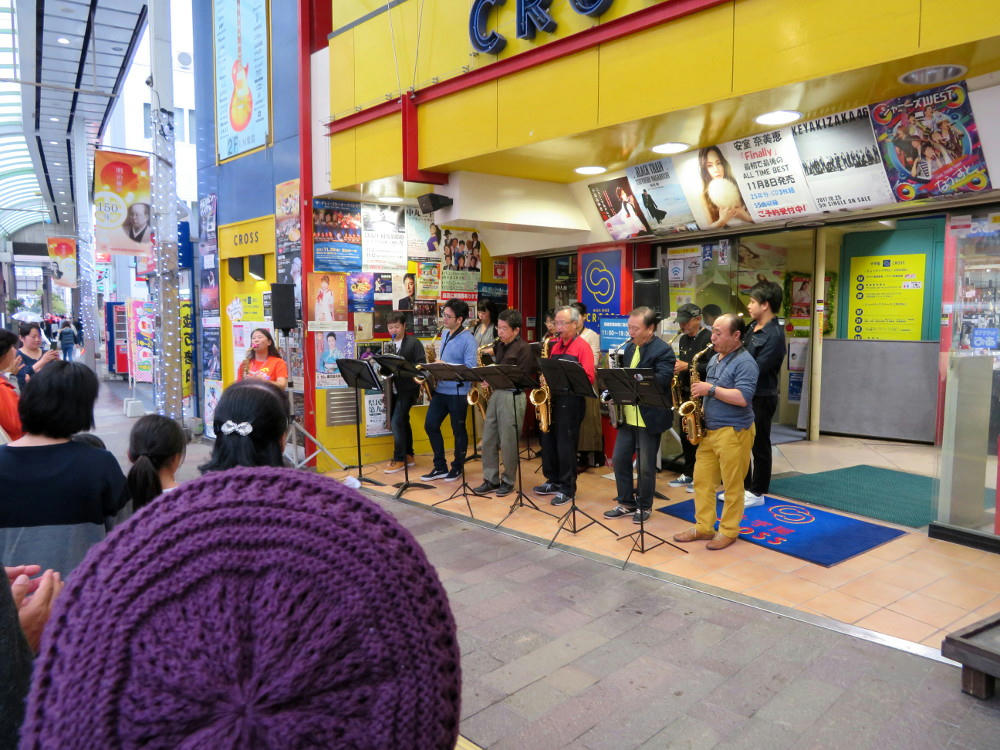 Finally, as I was cutting through Tenmonkan, I heard the theme song for Lupin III coming from the front of a record and musical instrument shop, Juu Cross, across the street. The shop offers music classes, and occasionally during some outdoor festivals they'll host a live music event as well on the front sidewalk.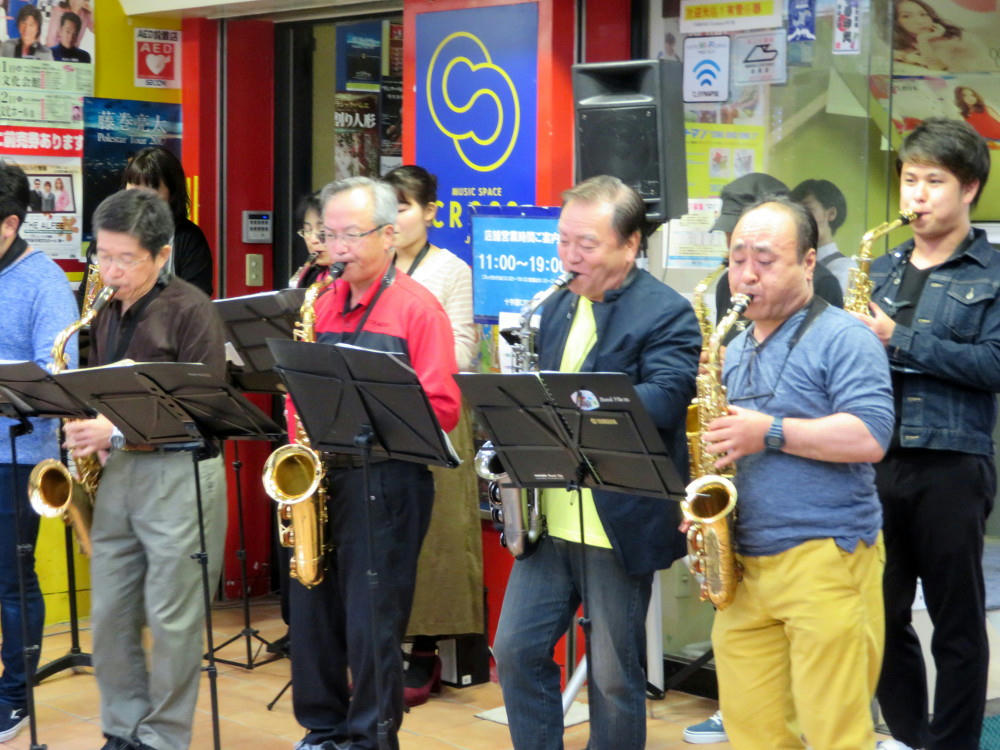 I think the group is made up of students at the school, and they were just finishing up the song as I arrived, then they broke up and went into the building. It was a shame, because they were pretty good and I would have liked to have recorded them for my own files. Oh well.
After this, the rain came down harder, and I gave up and went home. Still, it's been a good week for events, and I'm pretty happy with it. There wasn't much happening on Saturday, though. I worked most of that day, and after the classes I hiked up to Amu Plaza to see if anything was going on there (there wasn't). And then I got an invite from Facebook for an international cultural event down at Dolphin Port starting at 1 PM on Sunday. As I type this entry up, it's now 2:30 AM Sunday morning, and I'm not sure if I'll be up in time to get to Dolphin port 10 hours from now. We'll see.