Tenmonkan market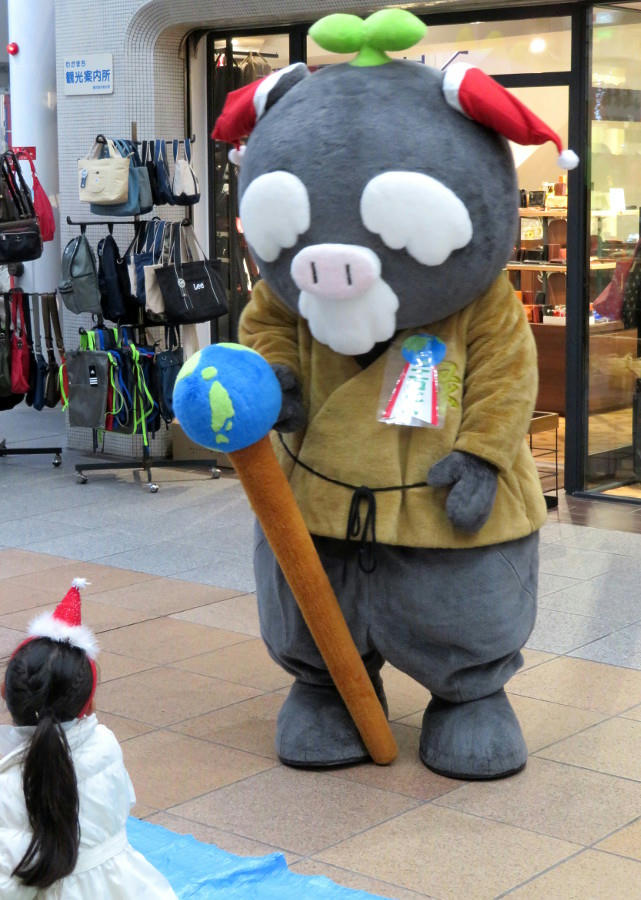 I mentioned before that the Amu Plaza Christmas market didn't have live music scheduled during the week. Well, that was for the period from Dec. 1 to the 10th. Starting from the 11th, they have had live performers M-F from about 5 PM to 8 or 9 PM. But, I've been insanely busy with a translation clean-up contract that has prevented me from getting out of the apartment for most of the last couple of weeks. That's on top of the regular English classes I still teach at the school M-Sat. Fortunately, there's been nothing on the schedule I've had any interest in, and I haven't felt like I've been missing anything. On the other hand, I still have to walk through Tenmonkan to get to the school, and on Saturday, they had their regular crafts and jewelry booths set up, plus a children's play area. There were two new foamhead mascots this time, though. First was "Eco-kun" (hence the green sprout on his head and the Earth staff). I like the two red stocking caps for his ears.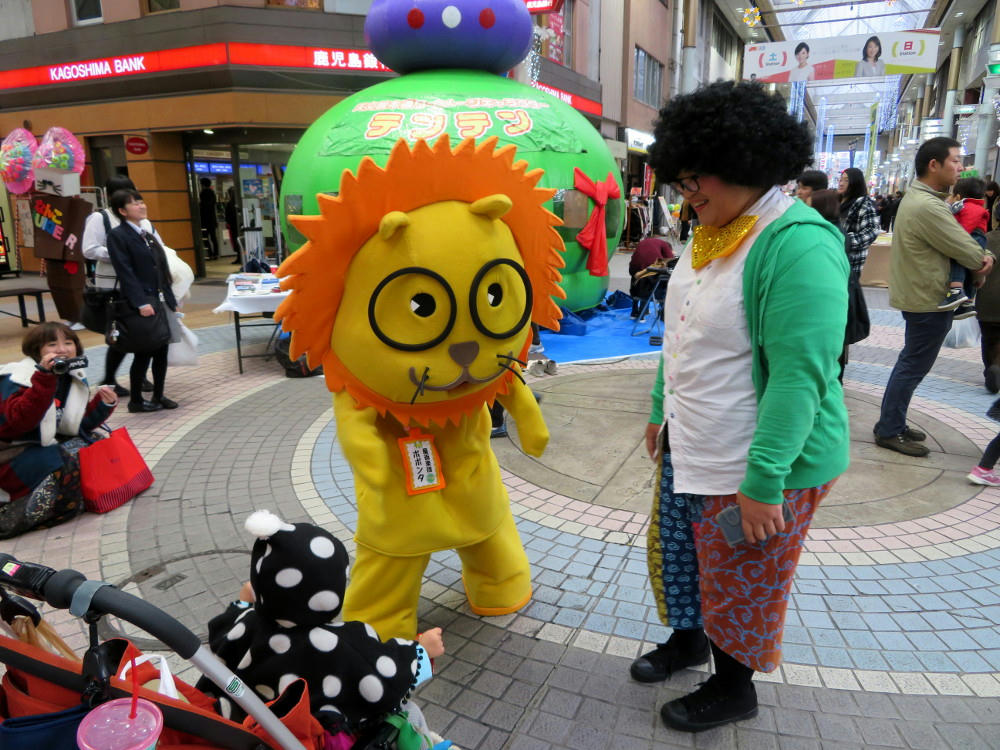 The other was the lion-like Poponta. Notice the Tenmonkan mascot, Tenten-based jump room in the background.
There wasn't anything in particular that I wanted to look at or buy here, so I just took photos of the mascots for the blog and kept walking.
Self-Defense Forces Recruitment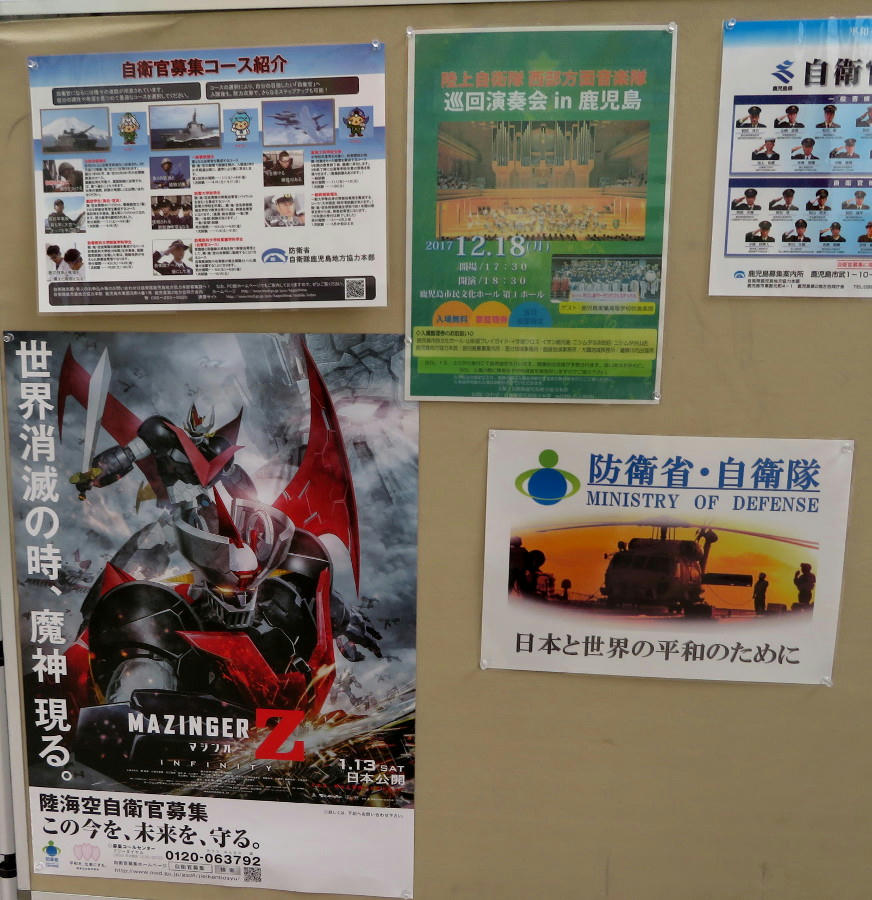 On Sunday, the Japan Self-Defense Forces (JSDF) were in Tenmonkan (same area as the market above) to try to sign up new recruits. They were trying a lot less hard this time, with none of the past foamheads, and only two vehicles, a jeep and a kind of Humvee. Their main tool was the tack board, with a couple posters. Including one of Mazinger Z.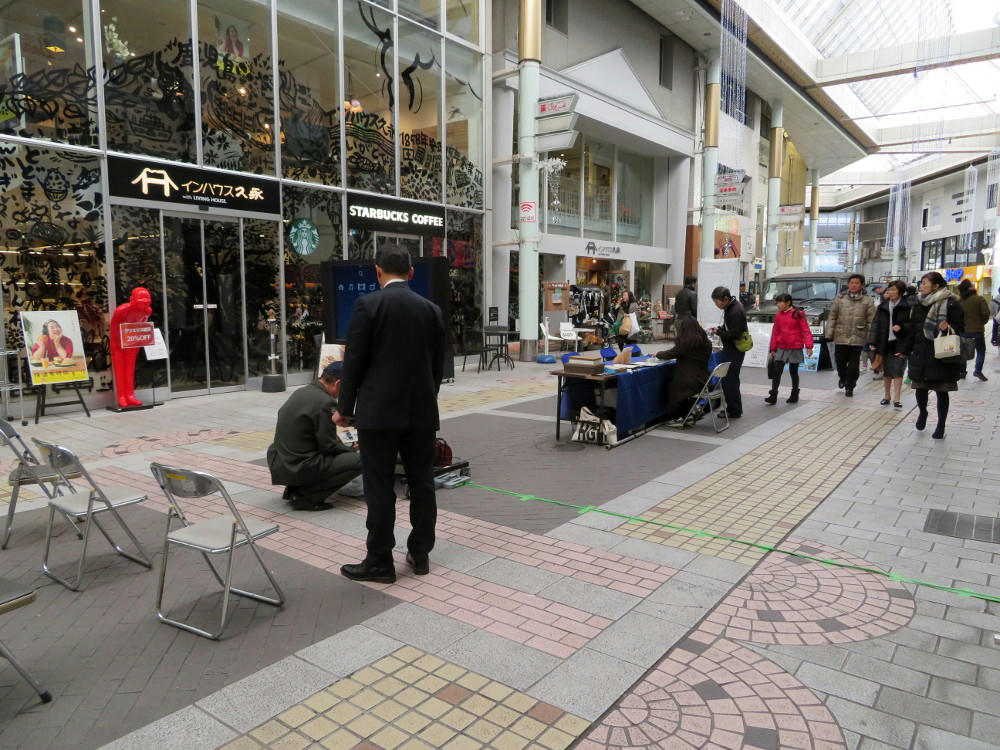 Not a lot of interest from the locals this time.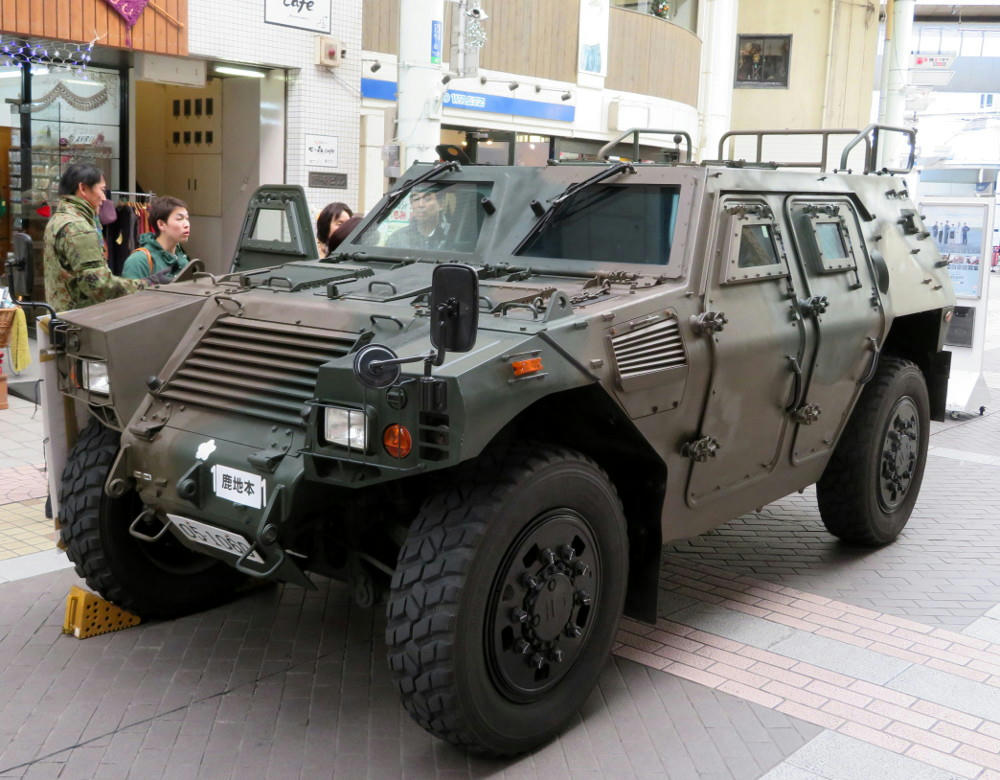 But, it was a good place to go if you like heavy metal.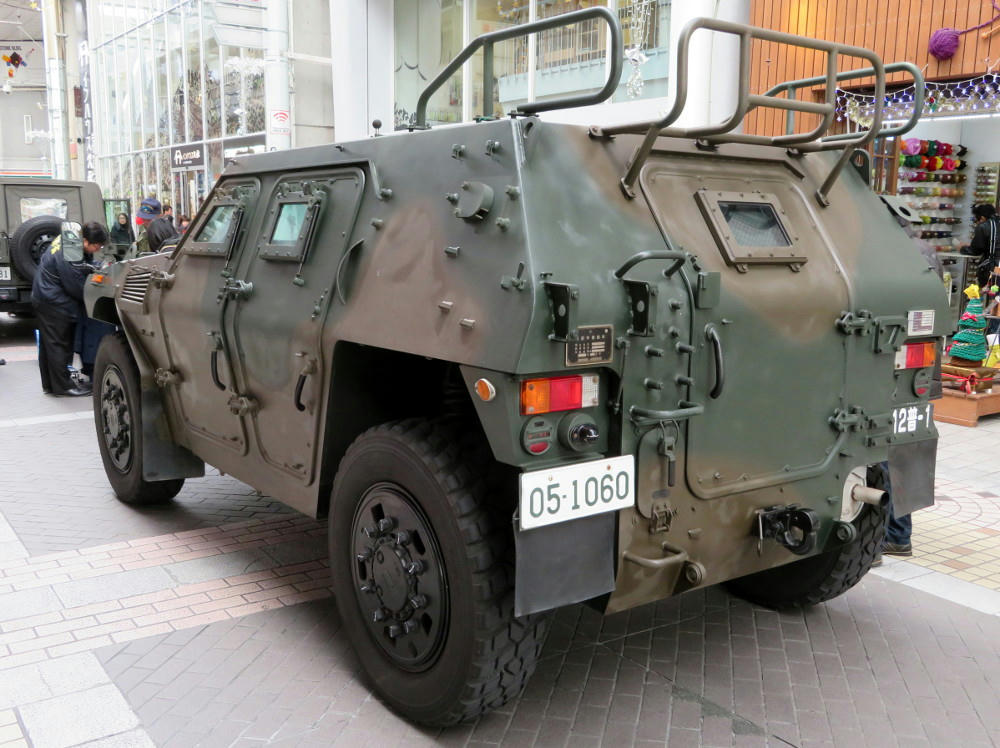 It's even street legal.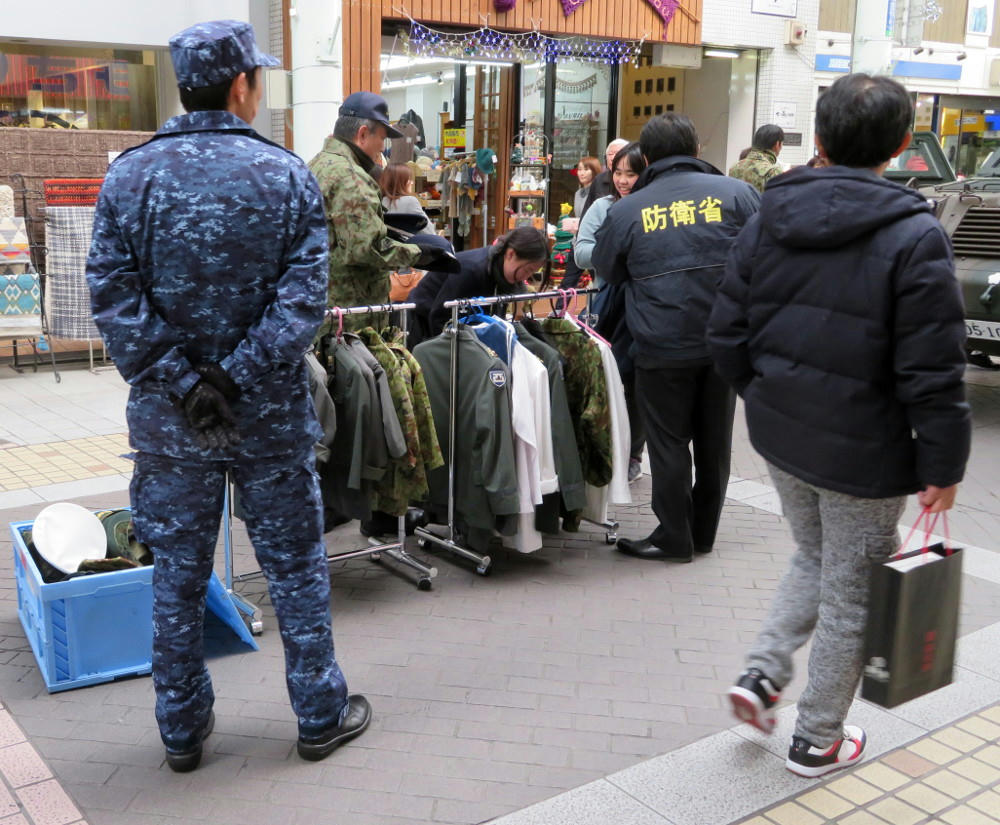 They also brought sample uniforms of different sizes if you wanted to try one on. A couple of women were interested in taking photos of the "cosplay."
Christmas Market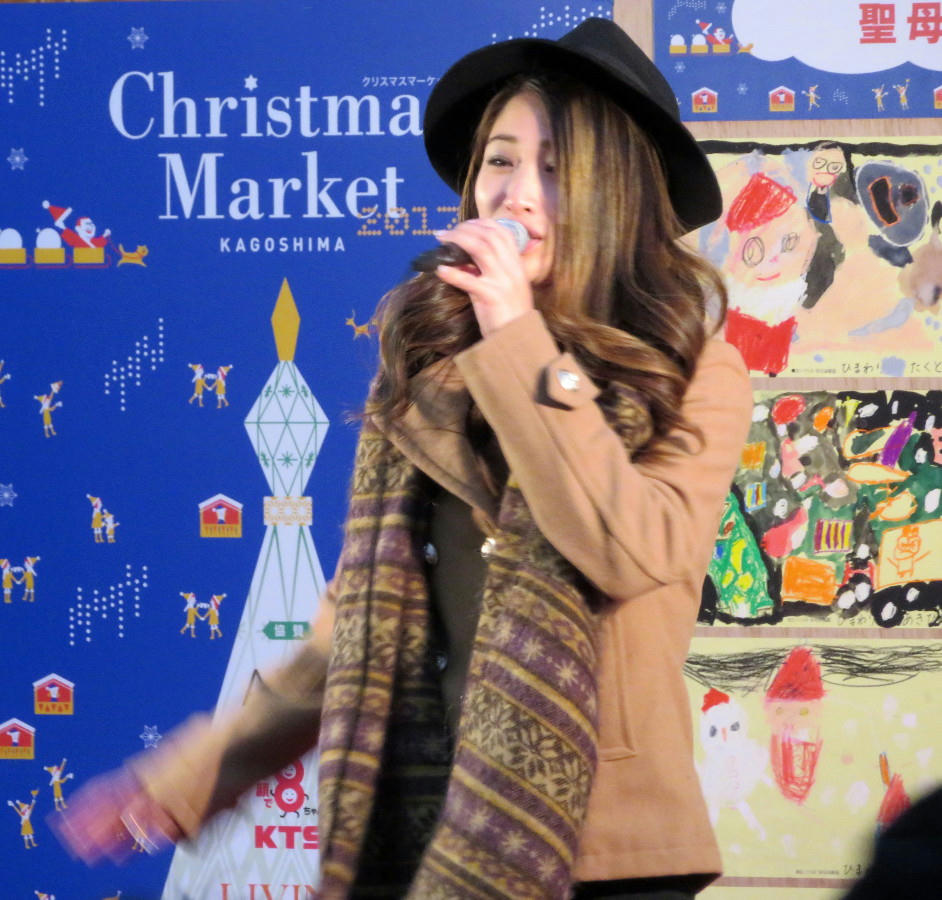 Obviously, I had a little free time on Sunday. Actually, there were two female singers on the Amu Plaza website schedule that were to sing at 12 noon, and at 1 PM. I wanted photos for the blog, so I got up a little early, got all of my other work out of the way, and headed out at 11:45 AM to get to Amu Plaza before the first one was to start her set. I arrived just as she was being announced.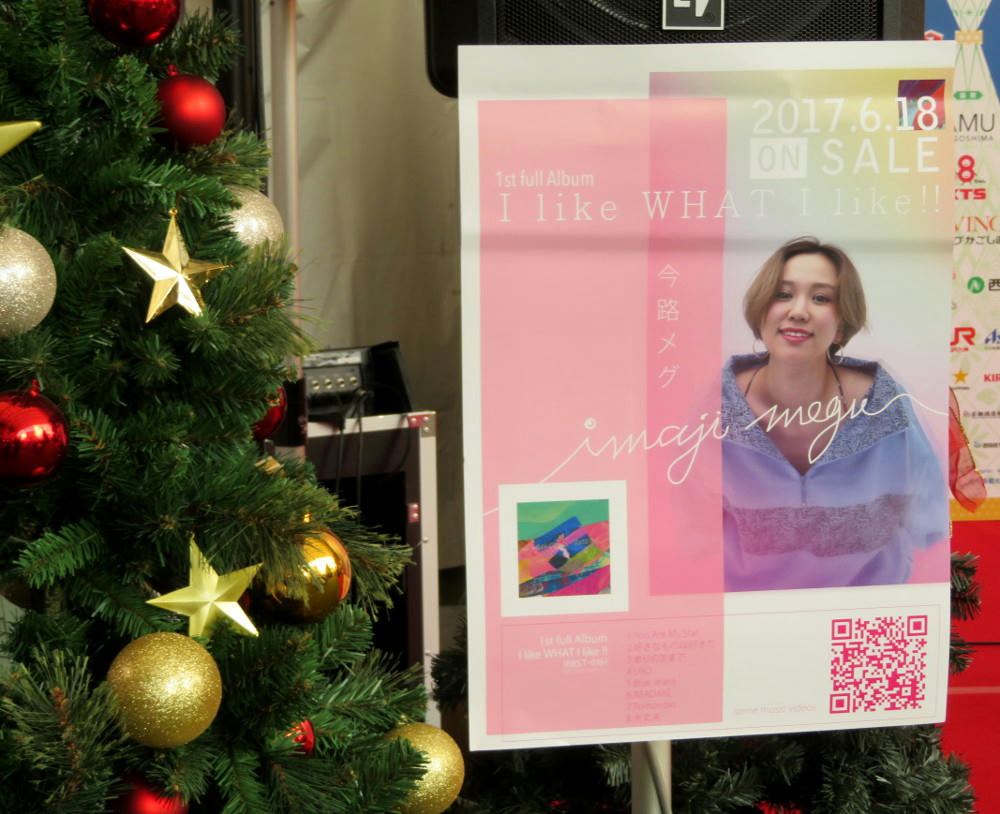 Megu Imaji. I think I saw her last year at the Christmas Market. She has a very strong singing voice, but she started out with "All I Want For Christmas Is You", and I didn't stick around for the other songs. It's basically karaoke, with the music being played off of a CD, and Megu singing. Not really worth recording. The poster by the stage next to the tree advertises her new CD, "I like what I like". And I didn't really like this.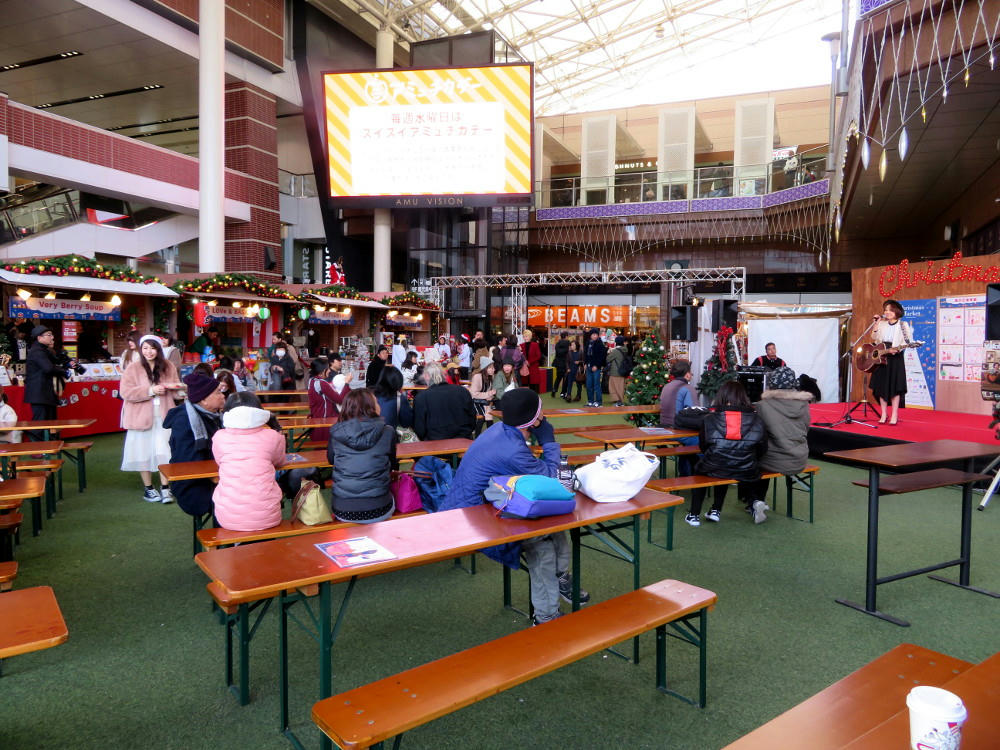 After the first song, I went into Amu Plaza to get free sample coffee from Kaldi, and then read a bit of the new
Attack on Titan
manga (vol. 24) in Seattle's Best to kill time. At just before 1 PM, I came back out for the second singer. The crowd is still pretty thin at this point.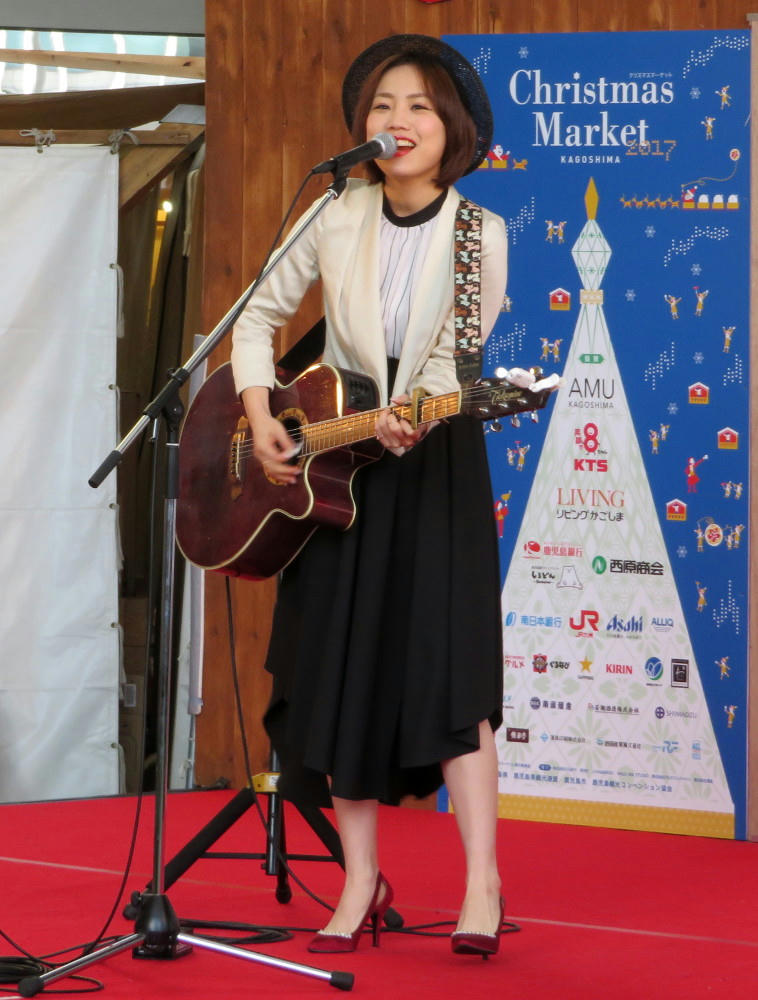 Shoko Matono was also accompanied by a CD, but she at least played guitar for the first song. She started out singing "All I Want For Christmas Is You," which promised to turn into a major joke, but she only did the first line. After that, she went into an original Japanese version of "Happy Birthday" (the lyrics of which revolved around the idea that it's really great that you were alive for the last year). I recorded "Happy Birthday" and then the second song for my own archives, but neither were really worth uploading to youtube (assuming they'd get past the copyright filters).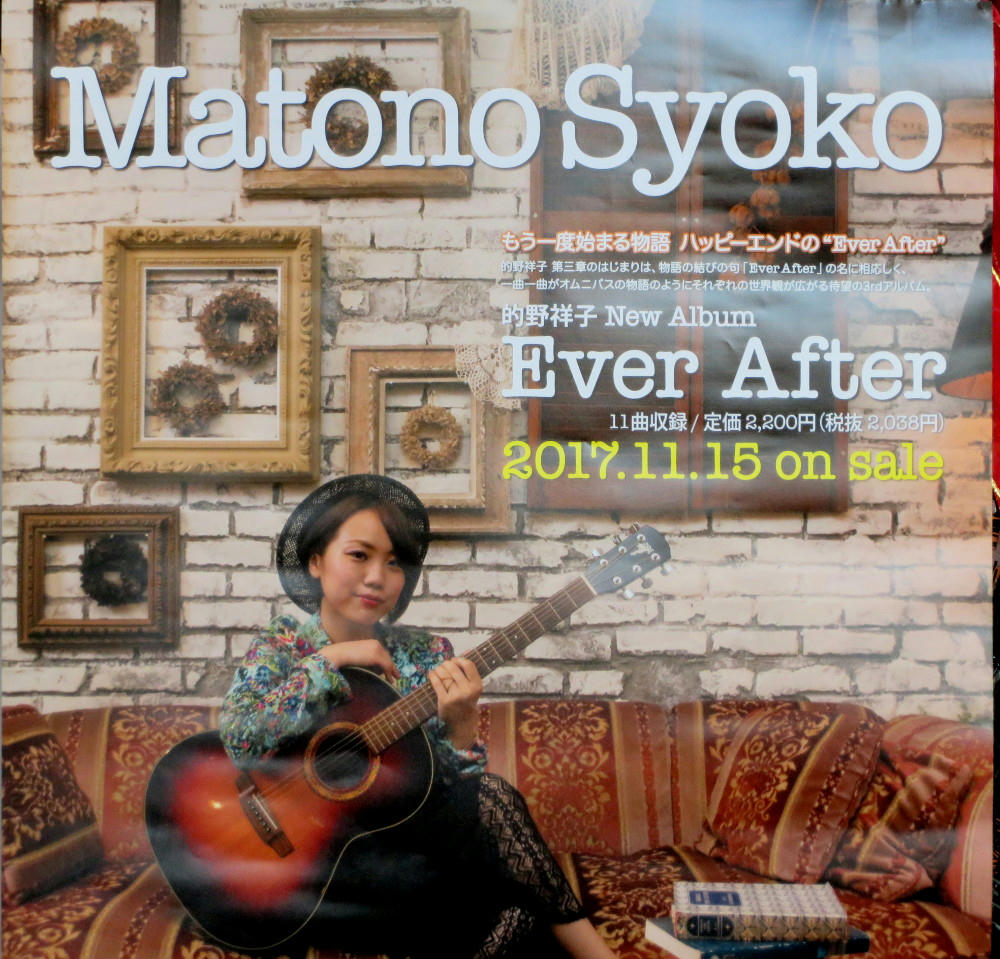 Shoko spent some time talking about being based in Fukuoka, how it's a 1.5 hour shinkansen ride to Kagoshima, and how she was surprised to discover that it wasn't as warm down here as she'd expected. It was cloudy, and in the upper 30's, lower 40's, but at least it wasn't raining this time (we did get rain on Friday and Saturday). She did have a nice stage presence, and danced around a lot more than most female singers tend to do, so that was good. But once I had a feel for the kind of music she sings (light karaoke pop), I figured I was better off finishing my shopping, so I went through Tenmonkan, saw the Self-Defenses recruitment thing above, and then went back home to work.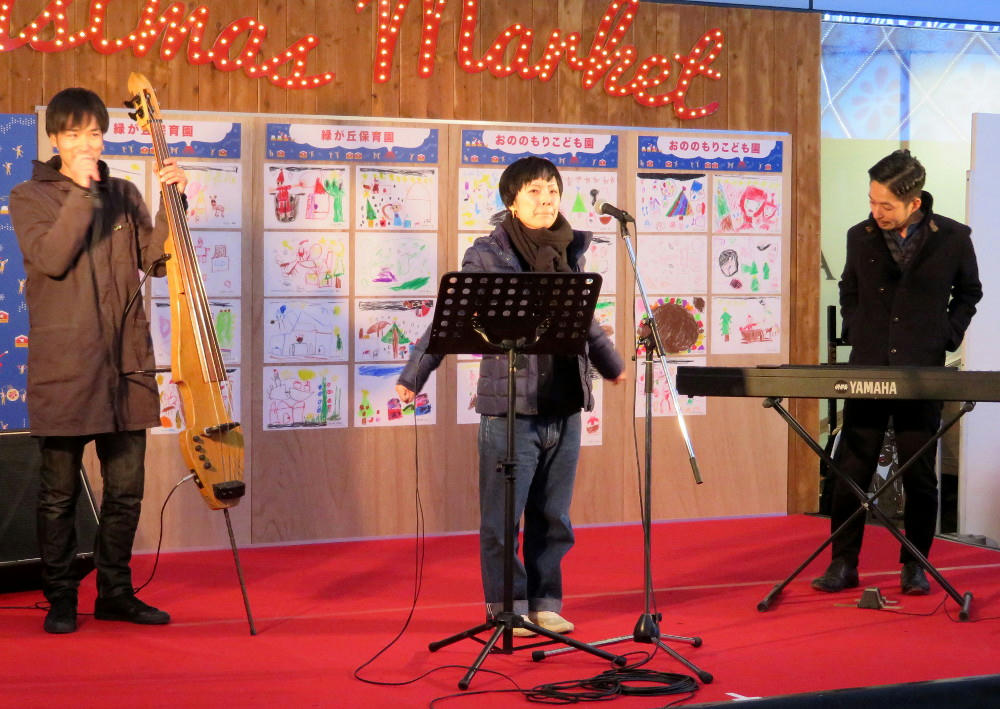 There was one more band that had caught my attention on the schedule - Black Tape. They were to play at 9 PM. At 8:30 PM, I was REALLY CLOSE to finishing the translation clean-up work (the deadline was 9 AM Monday morning), and I guessed that I'd be ok if I ran out the door to visit Amu Plaza for a bit. I do this thing, getting to the open space in front of the train station, again, just as the band is being announced. It's a trio, and they do really experimental stuff. The female singer doesn't so much as sing lyrics as she "la-la-la's". It was interesting to listen to for a bit, and I did record two songs for the archives. Then I ran back home to finish off the contract work, process the photos, and write up the entry for the blog to run Monday morning my time. After that, I went to bed at 1 AM, so I could get up "early" to wait to receive the next batch of work files due at the end of this week.
Not an exciting week.