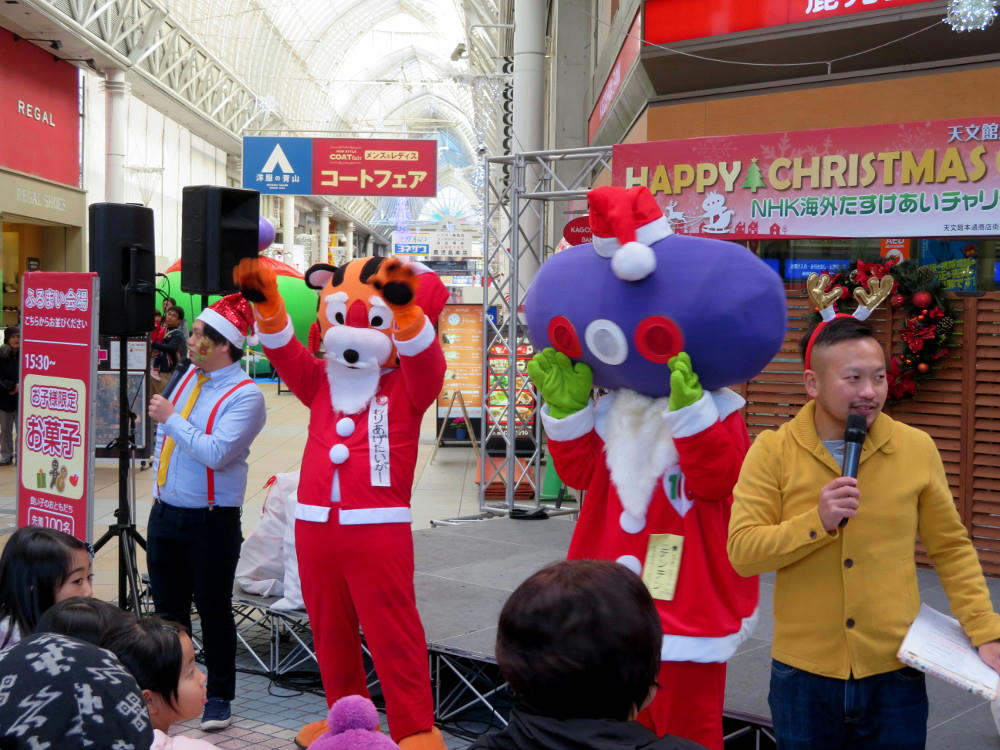 Tenmonkan has a little concert stage, and a few food and crafts tables set up in the arcade in front of 7-11, running from Friday to Monday. I've been in the middle of a heavy workload and didn't get out of the apartment on Friday. I didn't really know that it had started already, I just knew that Bon DX was supposed to play on Saturday when I was scheduled to teach classes. So, I didn't try getting to Tenmonkan on Friday, and I wasn't interested in the music line-up at Amu Plaza, either. So, I missed the stuff on Friday. I finished most of what I needed to get done on Saturday, and headed out of the apartment at 3:30 PM to see a little of what was going on in Tenmonkan. Again, I didn't really have the time or interest to go the other way to Amu Plaza as well.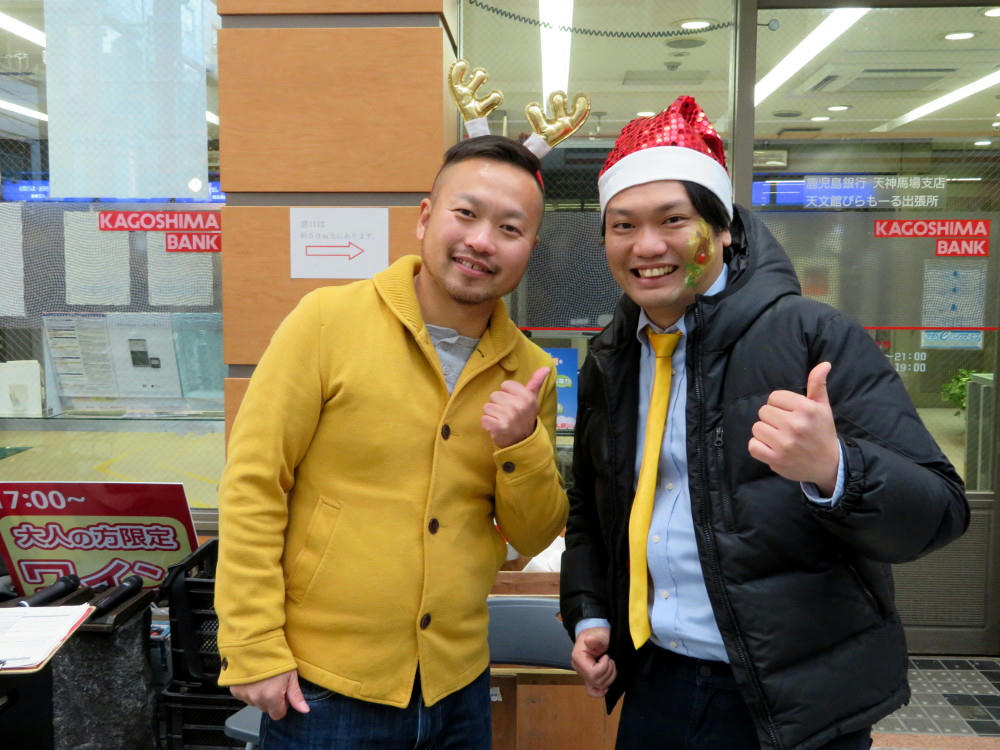 At 3:45 PM, the manzai comedy duo, Party, were in the middle of their MC duties, interviewing some of the Kagoshima foamhead mascots and preparing to hand out snack packages to the children. I needed to find a quiet place to sit down and do some proofreading on the work I still had remaining, so I continued to Maruya Gardens and found an empty space at the back of the bookstore there. When I was done, I returned to Tenmonkan to catch the juggler/performer K@ito. The guys in Party recognized me from past events, and agreed to pose for photos. I took two shots, but the first one came out blurry for some reason, and I had to settle for the second one. The little camera might be acting up on me, and it may be time to give it a cleaning.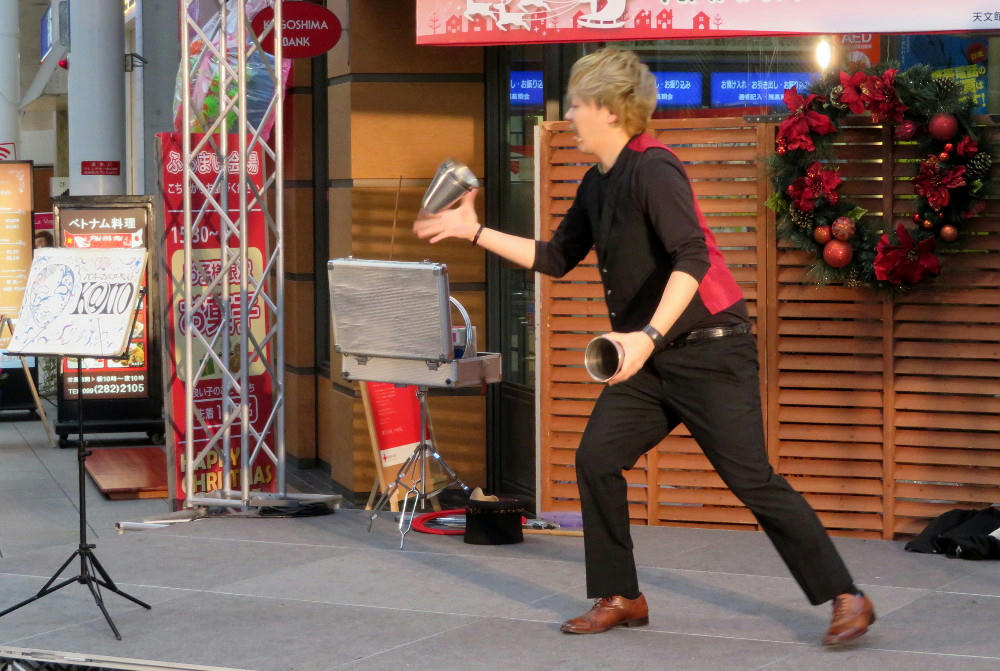 K@aito added a couple new bits to his routine, such as juggling metal cups, and a really slow variation on the linking rings magic trick. He likes to think of himself as a "performer", so the juggling and magic he does is tightly wrapped up in the music and posing he picks. Unfortunately, it's all copyrighted music, so I can't post the video to youtube. I did put it on Facebook, which detected music that belongs to a Japanese singer, and that part got muted anyway. Sigh. But you can watch him perform
here
.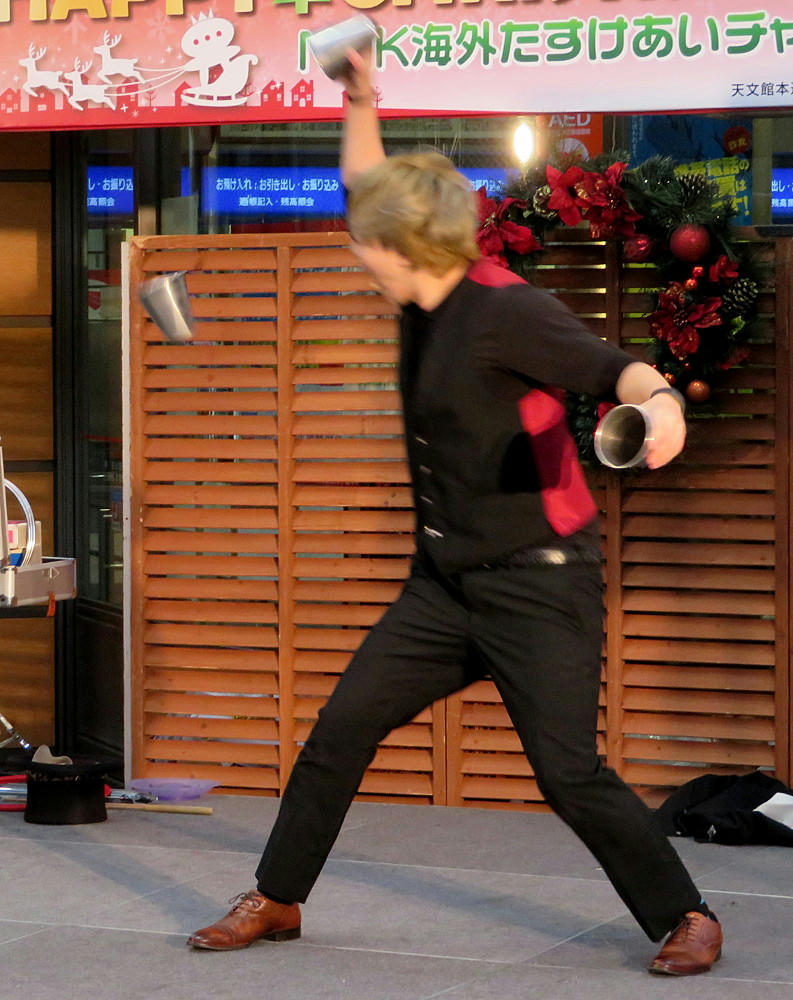 I stuck around for the entire performance, in part because the schedule showed that at 5 PM, they'd be giving out wine to the first 100 people. From where I was standing, I could see two guys setting up a table on the other side of the stage, and pouring red and white wine (a Japanese label) into little plastic cups.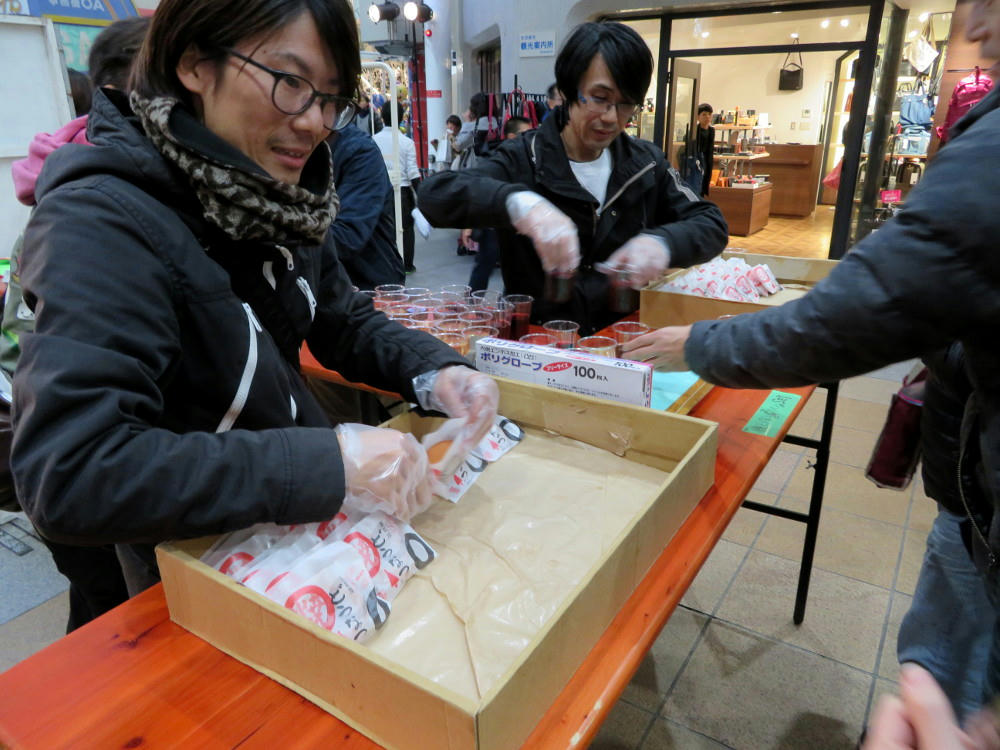 After K@ito finished, the crowd thinned out and I started ambling over to the table. Suddenly, a whole bunch of people started jumping into line, including what looked like some very determined homeless folks. I didn't have to go very far back, though, and it only took a few minutes to get to the head of the line. The guys running the table handed me a little glass of red wine, and a baked donut from one of the shops nearby. The donuts ran out fast, while the wine lasted much longer. I've had these donuts before, and they're pretty good. The wine wasn't bad either, and there wasn't enough that I had to worry about it affecting my work. At this point, it was about 5:10 PM, and I didn't have to be at the school until 6 PM. I stopped at the Lotteria burger shop and got a cup of coffee so I could sit at one of the tables and read manga in the meantime.
The thing that really bugged me was that Bon DX was scheduled to play at 6:30 PM, and I knew I was going to miss that. Plus, he's playing on Sunday at Amu Plaza at 3:30 PM and 4:30 PM, and I have 2 more lessons at the school from 4 PM to 6 PM. So, I'm pretty much missing out on the things I really have any interest in this time. On the plus side, the rest of my workload is getting close to subsiding, so I'll be able to relax on Christmas Day. There just won't be any free live events then that I want to go out to watch.
Merry Christmas.